Undoubtedly, among the current breed of Indian actors, Shahrukh Khan (SRK) is one of the most articulate ones. He is well-read and can hold a conversation on quite a few topics that his colleagues will go blank on. SRK also has an immense capacity for self-depreciating humour. And while there is no doubt that he floats a few inches over the ground thanks to his superstar status, there are still moments when he comes out every bit like the combative Delhiwalla that he portrayed in one of his recent movies. Not surprisingly, SRK at times lets go of diplomacy that is so much a part of modern-day success and speaks his mind in a candid manner.
It was in one such moment of rush, back in 2010, that SRK spoke of the pressures faced while managing his IPL team, KKR. Back then, tensions between India and Pakistan were at a high due to border skirmishes, and by thumping his support for Pakistani players, SRK had put his Leg Before the Wicket. There was an immediate outcry over his "unpatriotic act", and as the impending release of his movie "My Name is Khan (MNIK)" neared, the clamor only got louder.
Not surprisingly, Shiv Sena, a political party prone to petty provocations, immediately took offense. The party mouth-piece Saamna dubbed SRK "unpatriotic" and called for a ban on the screening of his film. As the release date of MNIK got closer, the tensions escalated. Theater owners were warned not to screen the film, and there were numerous protests all over, accompanied with the regular burning-and-stamping-the-effigy-in-front-of-the-newschannel-camera moments.
But when all this didn't work, political activists attacked several cinema halls that were to screen MNIK. Hoodlums entered halls and damaged screens of the Metro theater in south Mumbai and the Huma Cinema at Kanjurmarg. Meanwhile, there were the other set of goons that pelted stones and broke the glasses of Mehul cinema in suburban Mulund. This was typical intimidation strategy at work.
In all this melee, the Congress government backed SRK to the hilt, providing heavy police cover to theaters screening the film, putting some 1500 Shiv Sena party workers in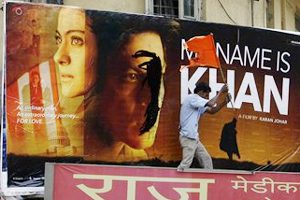 preventive custody, and even warning Uddhav Thackeray of dire repercussions. The battle lines were drawn, a defiant SRK refused to apologise, whereas the Shiv Sena would have nothing less than it. As the battle progressed, the saffron party seemed to lose steam and was looking for a way out of the imbroglio, with its leader talking about a "public apology" as an acceptable truce. That did not come though, and the film was released among heightened tensions. As is the case with quite a few SRK movies, MNIK earned its crores, got all the awards, and was declared a hit.
The ban, the threat and all that, just fell apart like a phuski bomb (what we call in Mumbai) or like a dud. This was one of the rare times, when Bollywood had stood up to political hooliganism and prevailed, like they do so much in those pot-boilers.
Yet, the odd bit here was not about how SRK was attacked, but the fact that almost no one from Bollywood came to his aid. Even as the attacks on him were mounting, none from the film fraternity spoke publicly in his support. Of course, there were those conciliatory and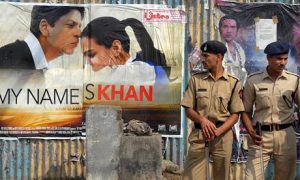 diplomatic mumbo-jumbo, here and there, but these were largely from the smaller actors, the ones people call character artists. The big shots of Bollywood were dumb-founded, much like their likeness that represents them at Madame Tussauds and elsewhere. The Khans, the Kapoors and even the Bachchans, kept mum. Bollywood, the big family of superstars, was more like a petrified herd of goats. The kind that will retreat into the barnyard at the sign of first trouble.
It has been six years to that confrontation. and precious little seem to have changed. This time round, there is another SRK movie that is caught in the political grind, but not because of his utterance but rather the temerity on the part of the film makers to cast a Pakistani actress in it. And just like, in 2010, we are again having trouble with Pakistan at the borders, and people are yet again baying for the blood of artists and singers from that nation. But this time, SRK is not alone, he has his good friend Karan Johar (KJo) for company. With KJo's film "Ae Dil Hain Mushkil" featuring Pakistani actor Fawad Khan nearing for release, the time for political haymaking is reaching a crescendo. Continue reading …