On Feb 4th, major newspapers in Mumbai carried a fervent (and a rather long one as well) appeal from Meru Cabs, asking the lay public for support, something that went like, we served you now, support us. Saying it in short, the ad talked about how hoodlum practices had forced the company to stop its operation and how in spite of almost all the drivers wishing to return to work, they were not let to, by a "handful of people with ulterior motives". At the end, there was a business plea, to let a corporation carry out its business unhindered by political machinations.
For many of us in Mumbai, the current Meru fracas is certainly not a new one. Over the past year or two, it has become a regular affair. Over some trifle issue or the other, the olive-green taxis will be off the road, and after some reconciliation they will be back. Only for the same cycle to repeat all over again. In fact, the ad itself mentioned that the company has suffered such "strikes" 6 times in the past two years. None of the competitors, the Mega, the Easy or the Tabs, have faced such issues. So, what exactly is the company doing so wrong that it's facing such backlash again and again?
Curiosity finally, got the better of me, and I started Googling on the subject and asking my friends in the industry to find out how and why things had come to such a pass. And here's how the story unfolded. Starting off in this very city of Mumbai in 2007, Meru today is India's largest radio taxi operator and world's 3rd largest company, operating some 5500 cabs in metros like Delhi, Bangalore and Hyderabad, in addition to Mumbai. Statistically, Meru serves more than a million passengers a month; executing over 20,000 trips on a daily basis (it even holds a Limca Book of Records for the same).
Now, just as Redmond is synonymous with Microsoft or Atlanta with Coca-Cola, or even closer home how Bangalore is synonymous with Infosys, Mumbai and Meru have an intrinsic connection. In fact, it should be a matter of pride for all of us that in a short course of half-dozen years, a start-up from the city attained such success that it was even featured in WSJ or even as a Wharton case-study. Meru's success is symbolic of Mumbai's entrepreneurial acumen, where if you have a great idea and a determined will nothing can come in the way to success. Except possibly for politically-aligned trade unions.
Time for flashback. When Meru started operations back in 2007, we Mumbaikars were completely at the mercy of the city cabs (referred locally as kaali-peeli). Hyper-inflated bills, rowdy behaviour, rash driving, and others were all the calling cards of the kaali-peeli. Commuters were helpless in front of these cab-wallahs, who ran according to a writ of their own. In this mire, appears Meru, a professional run-taxi operator, that delivers a swanky sedan at your door, with a civil driver and a mechanism to ensure no over-charging. While over the years, Meru added a lot many features to their cabs, like web-booking, credit-card payment, etc., the earlier 3 were its only USP.
Little wonder, in a short period of time Meru was ferrying customers up and down the island city and people were readily changing their travel patterns, namely start planning in advance rather than ad hoc yelling Taxi–Taxi on the roads. The other big thing that worked in Meru's favour was the security factor. Ladies could travel late and safe, one could forget even laptops and recover it (I did my smart-phone). Predictability brought with it a sense of security. And while Kolkata had got the Metro first, and Delhi the swanky roads, Mumbai had the first radio taxis in the country and Mumbaikars simply loved it.
Seeing the success of Meru, more operators jumped into the fray. In a very short while, the sector was buzzing in business, numerous operators, numerous hoardings, numerous short-codes and numerous other things. And when there is so much of numerous'ity in terms of meaty-prey how can you keep the hyenas away? Come they did, in a large flock and decided to hound and bite the poster-boy of this business, which incidentally was Meru.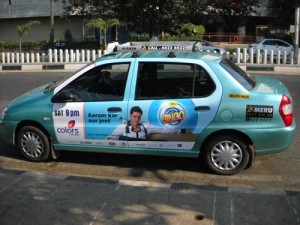 I vividly recall one-day some 2 year back, when boarding the olive-green sedan from my home I spotted a familiar roaring-tiger sticker on the back of the car. Born and brought up in this city, I was much familiar with this tiger, and somehow while sitting comfortably in the car, I could but not help dread that things won't be hunky-dory anymore. And they certainly were not.
Apparently, Shiv Sena — another of Mumbai's political-prenuerial success — started a union at Meru, even when it wasn't recognised or supposed so, as the drivers were not company employees at all. It got together a few politically aligned drivers, and unleashed its strong-arm tactics. Over some issue or the other, it would call out a strike. Caring little for the 1000 more drivers that made an honest living from this business. But then it had an axe to grind, who cares about hungry mouths, or unpaid fees?
Now, calling a strike and enforcing it in Mumbai is a pretty old sport. Consider this, there is a bandh called, and you run a shop or travel in a car. If perchance, you went against the tide, did not follow the diktats and opened your shop or took out your car. As not many shops will be open or cars plying, the possibility of you being spotted and waylaid by a few bandh-enforcers is pretty high. Now for this small bravery, the cost could be as high as a damaged shop or a vandalised car. Certainly not worth the risk. Result: we Mumbaikars are cowering bandh-lovers.
Something similar happened to Meru as well, and while it was just a few that called and enforced the strike, it effected the whole operations of the company. The professional management, even though it was completely unwilling, was forced to the negotiation table and coerced into some concessions. The union-wallahs were elated with the success. And so, it set off a frequent chain. On some issue or the other, a strike would be called, some cars vandalised, negotiations done, operations resume and then again. Not just that, sniffing an opportunity other political outfits or "social welfare" (one led by the son of Maharashtra government minister) groups jumped into the fray. Result, when one group was not waving a red flag, the other one was hurling a stone.
In this entire fracas, Meru from being the city's most dependable and trusted service, slipped down on the commuter's trusted list. One wasn't sure anymore that by just calling on 44224422, one could get an olive-green cab. Over a period of time, from being the first choice, Meru slipped to being a hallowed backup. The other operators, since they did not have the necessary numbers could not match up to the demand. Thus in small time-frame of few years, the radio-cab business was becoming a victim of its own success and collapsing down. It almost seemed that the era of the kaali-peeli would be back.
But then, there was a small twist, instead of the olive green there appeared a knight in red & white. One fine day, we the Mumbaikar's woke up to the Tab Cabs. These were swankier Toyota Etios boasting of the same efficiency and same fares. And there would be little hassle as the promoting company had the right lineage and the right connections. The company behind Tab Cabs , SMS cabs is owned by the Sancheti Family, the BJP Bigwig and Nitin Gadkari's pal. The company is also apparently backed by the Vasai-Virar strongman Hitendra Thakur, whose son is a director. And then there's the NCP MLA Dilip Mohite, another director. And finally the MD is Jagdish Purohit, who was apparently an associate of Satej Patil, the state-level Congress Minister. Thus, Tab Cabs is a very unique collaborative effort, between the BJP, Congress, and NCP. Little wonder then, it did not face any hurdles or troubles that plagued Meru.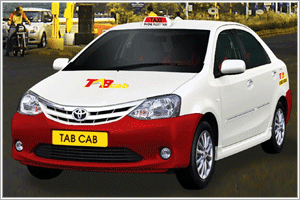 After all, how could Meru — a corporate-entity backed by a venture capital funds (IVFA) that was invested in by HDFC, Ambit Corporate Finance, investment bank Impala Partners, along with Gary Wendt, former Chairman and CEO of General Electric Capital Corporation — face up to the hooliganism of Mumbai's political class. Meanwhile, its competitor not only got all the clearances in a jiffy but faced none of the goondaism. Little wonder, the olive-green was overshadowed by the red and white. An entrepreneurial corporate entity was brought down on its knees by political machination of the worst sort. So, when another strike was called some days back, the operations were yet again shut down.
In this light, Meru's advert, an appeal for support makes most sense. The management is now at the end of its tether, it's a do or die for them, and they have taken the fight to the very public that once loved and hailed them. By taking it public, through ads, social media, the company is in fact pleading for a level-playing field. It is asking the public for support, so it can face up to the high-handedness. The prey is now turning the tables, and making one last stance. One can almost hear the Meru yell, enough is finally enough.
I really don't know how the game will play out; whether Meru will survive this crisis, negotiate again with the 'strikers', shut-down operations, or what? What I do know is that, were the city to lose Meru (because of any other reasons except business), it would be a big setback for Mumbai. It will be a chilling reminder to all, that the days of yore when an Ambani, Bachchan or Tendulkar could create an empire with nothing more than their own will-power, were well and over. In this city of dreams, where millions pursue their dreams, excellence was no more a guarantor of success. It's only the well-connected, the political-backed, the proctectees that could succeed in this city. A business run on ethics and professionalism would not be able to function any more. Meru's loss will be that omen.
And hence, for this and very this reason, Meru needs be saved. Meru is symbolic of Mumbai's dynamism and entrepreneurship. A place, where it does not matter who you are or where you from, except that you believe in your own self and your ideas. Mumbai, wasn't called a city of dreams for nothing, it really was. Sadly, there are signs that this dream might be turning into a nightmare. And all we need is to look around for the fast-disappearing olive green to remind us of that.
— Images used in this blog have been randomly downloaded from the Web, I own no copyright on them