Back in September 2014, when India's Mars Orbiter Mission or Mangalyaan had successfully traversed the wide interstellar space to place an Orbiter in the Red Planet's orbit, there was much celebration, clamor and much pride on the achievement. After all, only a handful of countries had been able to achieve a feat like that, and more importantly our Dragonish neighbor had failed to do that. It was a moment of super-duper pride for Indians, something like winning a Cricket World Cup twice and that too by thrashing the Pakis in the finals by a big-big margin. Mangalyaan was really so big.
Yet, even among the cheer and confetti around, there were a few discordant voices that could be heard talking about things like the usability, feasibility, of a mission like that.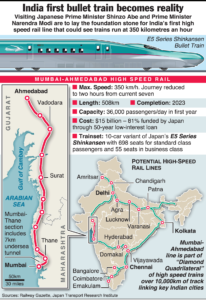 "One-third of Indians don't have access to regular power or water, yet we splurge money on fancy space missions. Let's concentrate on the basics, and leave such things for the Americans and their NASA.
Kya
zaroorat hain yaar!"
Now, this logical reasoning, juxtaposing any project spend with rampant poverty is a favorite bogey of the intelligentsia in India. Sipping duty-free Chardonnay and munching on salamander tikka masala, the irony if their views are never lost in these very brainy folks. The poor-poor chorus had been playing for much too long, like some background music in our Hindi films.
The launch of bullet trains in India has brought out this music again. Everywhere that I see, I am confronted by the sheer analytical and logical reasoning of why bullet trains are an expensive fancy waste, or how the economics is all wrong on this one. Intelligent and intellectual folks are deriding the project on a variety of reasons, from financial to political. All this negative coverage is surprising, after all, shouldn't we be celebrating one of the biggest infrastructure projects in modern times. Didn't the naysayers similarly debunk the ₹15000 crore Mumbai-Pune Expressway, and guess what they are doing these days, crying about the traffic jams on the 100 km stretch.
So what's the bit about the Bullet trains, is it really expensive and unnecessary? Let's deal with some of the primary arguments against the project on a case to case basis.
At ₹1,10,000 crore, it is a bullet TOO costly
In deed the Bullet Trains are costly. Why else, would so few countries have them and not all. Okies, so we know the story, the Japanese have loaned India some  ₹88,000 crore at some very favorable terms like 50-year time frame with 0.1% interest, a moratorium on payments for 15 years, etc. The rest  ₹20,000 crores will come from India. Now, as
Aakar Patel argues on Firstpost
, the figure is "three times the size of India's health budget" and goes on conclude that the Bullet Trains "will be a vanity project, sucking money that could be used for health and education".
But then, every infrastructure project is always a costly one. Building infrastructure always requires money, it is fairly obvious and simple. To give an instance, here are a few projects with their approx cost in the brackets:
Gujarat International Finance Tech-City or GIFT City (₹60,000 crore)
Golden Quadrilateral (₹30,800 crore)
Navi-Mumbai Airport (₹16000 crore)
Yamuna Expressway (₹12,839 crore)
Netaji Subhas Chandra Bose International Airport (₹2,325 crore)
Mumbai Freeway (₹1250 crore)
Ever since India's first Prime Minister Jawaharlal Nehru launched the ₹ 250 crore Bhakra-Nangal in the 1960s, we have been forever evaluating the cost in terms of infra-spend. A nation that will soon be the most populous nation on the planet does not have a luxury to not spend on infrastructure. We need the highways, roads, the metros (the Delhi metro
at ₹552 crore per kilometer
, it is one of the costliest), as much as we do healthcare and education. Government spending in infrastructure is also a great way to boost sagging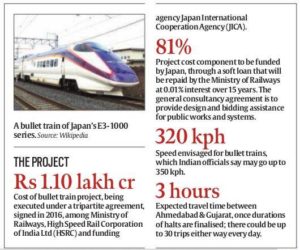 economy, it generates employment, helps businesses, etc. And finally, don't forget, Bullet Trains are not a social project, they will run like a business, charge a premium, etc. Given the favorable terms of lending, the overall cost is quite justifiable. The big worry is not the initial assessment but rather the cost overruns. Almost all infrastructure projects in India are delayed and exceed the projections if the Bullet Train go through the same rigmarole, then it will turn unfeasible and costly. The best (or rather the worst) instance of this is how India acquired INS Vikramaditya, or aircraft carrier Admiral Gorshkov, from Russia. The initial cost was some ₹6000 crore, but instead ballooned to ₹ 16,750. For a decommissioned aircraft, this was a much higher cost to pay.
Bullet is not our priority
Currently, trains do run between Ahmedabad and Mumbai, planes fly too, so why is a Bullet Train required? Is another common argument. Before we get to the why let's talk about India first. Over the past many years, India has gained lot of attention because of its booming economy, rising population, defence spending and so on. The shift in position can be gauged from how world leaders regularly visit India. While the 'developing nation' tag is still attached to us, our aspirations are now as high as any other. We launch satellites, we conducted war exercises, we host high-class sports events, have the biggest project on renewable and so on. The biggest brands in luxury and automobiles focus on the Indian markets. We have a good clutch of billionaire entries in the Forbes global list, and so on.
Now, given the aspirations and desires, why should Indians be devoid of the luxuries that development brings with it?
Recently, while on a visit to Uzbekistan, I commuted between Tashkent and Samarkand on a high-speed rail of HSR called the Afrosiyob. The train traversed the distance of some 300 kms in a matter of 2 hours. Now if a country like Uzbekistan, Philippines, Turkey, Portugal, Belgium, can have HSR, why should not India? A country with global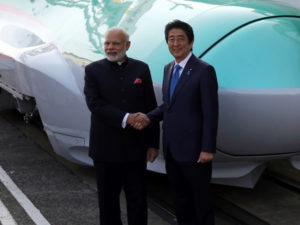 aspirations, but have global infrastructure too.  Also, different modes of travel cater to a different set of people, the air is fit for the direct traveler, the general train is suitable for occasional traveler, while the Bullet is for the daily commute.
One of the biggest priorities for India is to find homes in wake of the rising urbanization. Given the immense pressure on our cities, we need to find ways to decongest them. Japan went through the same scenario in the 1960s, when it wanted to reduce pressure on Tokyo through the Bullet Trains. If, we are able to do something similar with Mumbai, say, people can live in Vadodara and travel comfortably to Mumbai for work, it can then reduce the pressure, even bring down the real estate prices.
Let's spend money on upgrading Indian Railways
Indian Railways is the largest network in the world.  Sample this;  railways have a network of more than 64000 kms in length. It runs around 7000 commuter trains; 12000 long-distance trains and 6000 freight trains this network daily. Around 22 million passengers commute over the network each day. Given the scale of incidents and accidents, should not we be spending this  ₹110,000 crore on upgrading our network?
Well, the answer to this query is a yes and no. Yes, we should spend money upgrading the network, but no it should not be at the cost of capital investment. The trouble with
Indian Railways is too complicated to be solved by infusion of capital
, there are issues like a pension bomb and so on. Hence, just like the Metro Rail Projects, the Bullet Train is completely separate from the typical railways. So, a spend on Bullet Train does not come at the cost of spending on Railways.
The simple fact is that this is one of the biggest capital intensive projects in the Railways sector after the GE-Indian Railways 1000 locomotive deal. India's needs such large size infra projects too boost the economy.
It will be unaffordable because of the fare
This one is fairly easy, let me start with an example. When the Versova-Ghatkopar Metro started, there was much skepticism on the fares. Many people believed that at ₹40 not many people would take the Metro. And yet, today the trains are running full packed. The factor of cost is a relative one, what is costly now, could be pretty affordable tomorrow. Thus, a fare of around ₹3000 should not be as costly, when the train finally runs in 2022.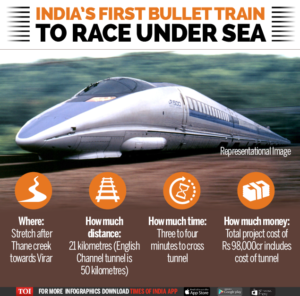 And while many comparisons made between flying costs between Ahmedabad and Mumbai, don't forget there are a total of 12 stops on the Bullet Train. A person living in Thane or Dombivli would much rather prefer to take the Bullet Train to Ahmedabad than a flight, simply because traveling to the domestic airport is a bigger hassle. As of now, there are 70 trains that will run daily, some will stop at all the stops, while a few will be on the fast track. This permutation would open up a whole new set of new travelers rather than replace the current one.
Bullet Train is a political stunt by Modi
To be honest on this one. Indeed, it very much is. Right from his days as the Chief Minister of Gujarat, Narendra Modi knows the importance of theatrics. All his projects are huge and need to be launched in grand style. Take the case of Bullet Train itself, the Japanese PM Shinzo Abe is taken on open jeep, feted in Gujarat and the project is launched. For PM Modi, Bullet Train is like an A+ on his report card, which he will show to all in 2019 and seek re-election.
But then, which politician in the world does not use such projects to seek election? Did not the last UPA government go bonkers advertising those then and now Delhi videos or incessantly harp about the spending done on MNREGA?
Modi, pretty well knows that if and when the Bullet Trains do run in India, it will forever be associated with his name. It will be his legacy.
Why Japan? Why not the cheaper Chinese?
Geopolitical realities is a simple answer to this one. Over the past decade, as China has gained economic might, it has also become rather rough-shod in its approach. China now considers itself as an Asian superpower and will broach no claimant to the title. It expects all to live under its sphere of influence. While that is quite acceptable for many, including Russia, Japan and India believe otherwise. To check the rising power of China, India and Japan need to work closely together.This was the Diamond Approach as suggested by Japan, the coordination between Australia, India, Japan and the US.
Secondly, India and Japan complement each other beautifully. Japan has the technology, and we have the workforce. With its shrinking workforce and economy, Japan can immensely benefit from the young demographic of India, not only as a workforce but also as a market. Thus, instead of buying things from China, we should rather do so from Japan, as it has the potential to strengthen the ties between the nations.
Don't forget the asterisk
While the extreme negativity around the Bullet Train is unjustified, so is extreme euphoria. Amidst all the din, there are two points that are a bit of worry, and the government has not been forthcoming on it. First, there is little mention of technology transfer around the Bullet Train. Now, if after spending such huge amount of money these trains, we dont own the IP, it would really be a tragedy.
Also, the '
Make in India
' part of the deal seem to be unduly muted. Namely, what is going to be the domestic component for the Bullet Trains is what I keen to know. There's talk of the 20000 jobs that would be created, but what I would really like to know as to how many SMEs would be working on the project. Will the coaches and rakes be manufactured here or just imported? These are some of the important aspects that seem to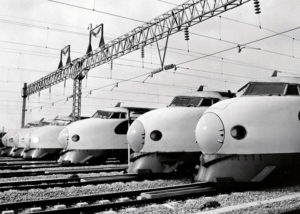 be missing, and we deserve clarity.
In end, it will be stupid to evaluate Bullet Trains as just a mode of commuting. There are very many benefits that are associated with the same. For instance, there could be a boost for the manufacturing sector in India, who knows we could become a center for Shinkashen manufacturing. Similarly, all the points connected by the train would now see a boost of the economy, that is the reason why Shiv Sena, the regional party in Maharashtra was cribbing about the fact that there were just 4 stops in Maharashtra and the rest in Gujarat. Everyone wants a piece of the cake. And then there is the spinoffs, a technologically challenging project like this can be a catalyst for lot many other things. Just like the Apollo Mission had great impact technologically on the US economy, so too the Bullet Train on Indian economy.
Coming back to our Mangalyaan, the ₹480 crore project was not really just a technological show-off, but had economic impacts too. Post the success of the mission, ISRO has received scores of orders for satellites launches on its PSLV rockets. Today, it is a steady stream of revenues for the space firm and all set to grow in the days to come.
Were we to factor in all these things in our assessment of the Bullet Train, our answers to it would undergo a deep change. Can a trillion-dollar economic powerhouse not afford a high-speed rail? I don't really think so…