Undoubtedly, among the current breed of Indian actors, Shahrukh Khan (SRK) is one of the most articulate ones. He is well-read and can hold a conversation on quite a few topics that his colleagues will go blank on. SRK also has an immense capacity for self-depreciating humour. And while there is no doubt that he floats a few inches over the ground thanks to his superstar status, there are still moments when he comes out every bit like the combative Delhiwalla that he portrayed in one of his recent movies. Not surprisingly, SRK at times lets go of diplomacy that is so much a part of modern-day success and speaks his mind in a candid manner.
It was in one such moment of rush, back in 2010, that SRK spoke of the pressures faced while managing his IPL team, KKR. Back then, tensions between India and Pakistan were at a high due to border skirmishes, and by thumping his support for Pakistani players, SRK had put his Leg Before the Wicket. There was an immediate outcry over his "unpatriotic act", and as the impending release of his movie "My Name is Khan (MNIK)" neared, the clamor only got louder.
Not surprisingly, Shiv Sena, a political party prone to petty provocations, immediately took offense. The party mouth-piece Saamna dubbed SRK "unpatriotic" and called for a ban on the screening of his film. As the release date of MNIK got closer, the tensions escalated. Theater owners were warned not to screen the film, and there were numerous protests all over, accompanied with the regular burning-and-stamping-the-effigy-in-front-of-the-newschannel-camera moments.
But when all this didn't work, political activists attacked several cinema halls that were to screen MNIK. Hoodlums entered halls and damaged screens of the Metro theater in south Mumbai and the Huma Cinema at Kanjurmarg. Meanwhile, there were the other set of goons that pelted stones and broke the glasses of Mehul cinema in suburban Mulund. This was typical intimidation strategy at work.
In all this melee, the Congress government backed SRK to the hilt, providing heavy police cover to theaters screening the film, putting some 1500 Shiv Sena party workers in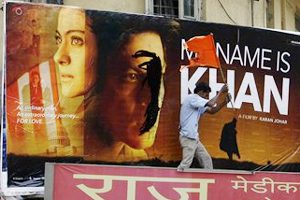 preventive custody, and even warning Uddhav Thackeray of dire repercussions. The battle lines were drawn, a defiant SRK refused to apologise, whereas the Shiv Sena would have nothing less than it. As the battle progressed, the saffron party seemed to lose steam and was looking for a way out of the imbroglio, with its leader talking about a "public apology" as an acceptable truce. That did not come though, and the film was released among heightened tensions. As is the case with quite a few SRK movies, MNIK earned its crores, got all the awards, and was declared a hit.
The ban, the threat and all that, just fell apart like a phuski bomb (what we call in Mumbai) or like a dud. This was one of the rare times, when Bollywood had stood up to political hooliganism and prevailed, like they do so much in those pot-boilers.
Yet, the odd bit here was not about how SRK was attacked, but the fact that almost no one from Bollywood came to his aid. Even as the attacks on him were mounting, none from the film fraternity spoke publicly in his support. Of course, there were those conciliatory and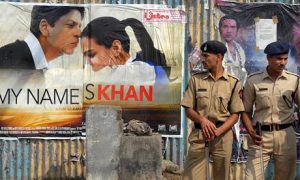 diplomatic mumbo-jumbo, here and there, but these were largely from the smaller actors, the ones people call character artists. The big shots of Bollywood were dumb-founded, much like their likeness that represents them at Madame Tussauds and elsewhere. The Khans, the Kapoors and even the Bachchans, kept mum. Bollywood, the big family of superstars, was more like a petrified herd of goats. The kind that will retreat into the barnyard at the sign of first trouble.
It has been six years to that confrontation. and precious little seem to have changed. This time round, there is another SRK movie that is caught in the political grind, but not because of his utterance but rather the temerity on the part of the film makers to cast a Pakistani actress in it. And just like, in 2010, we are again having trouble with Pakistan at the borders, and people are yet again baying for the blood of artists and singers from that nation. But this time, SRK is not alone, he has his good friend Karan Johar (KJo) for company. With KJo's film "Ae Dil Hain Mushkil" featuring Pakistani actor Fawad Khan nearing for release, the time for political haymaking is reaching a crescendo.
Ever since the Uri attack, anti-Pakistan feelings are at an all-time high. Fueled by newschannels and their rancorous anchors, anything or everything that is remotely connected to the Jinnah-state is a strict no-no. Thus, Pakistani actors are under attack for two things; (a) for being Pakistani and (b) for not showing disdain, hatred, shame for their motherland — a place where their families very much reside. Such contemptuous acts anti-pakistanhave truly riled the patriotic fervor in Indian political outfits like Shiv Sena and the lot. The strategy is pretty simple, first, get brownie points with the public — as the rakshak of India's asmita. Secondly, get the green moolah, as the petrified producers will readily dole out a few crores here and there, anytime next any issue is raised.
Little wonder that in the current patriotic hullabaloo, the political opportunism is pretty obvious. This is where Shiv Sena's cousin MNS steps in. But before we come to that, here's
a bit of the inside story. The Chitrapat Sena of the MNS is a sort of a union of film workers that has not been able to make much headway in Bollywood. There are essentially 3 unions that are functional, the first one is FWICE (Federation of Western India Cine Employees) a grouping of some 18 different unions like Sound Recordist, Cinematographers, Writers and so on. This union is a self-appointed body of the film industry, and has over 1 lakh workers as its members. From Amitabh Bachchan (as a member of CINTAA) to Babban (as a member of Allied Majdoor), all of these film workers are connected. These 18 odd unions and their mother body (FWICE) lay down the norms that define the functioning of the industry, like how much should be the working hours, the minimum wage, dispute settlement and so on. Considering the way the business is booming in the film industry, these bodies, and especially the leaders of these unions are pretty powerful lot themselves.
Seeing the lucrative pie, political parties like Shiv Sena and MNS have been trying to enter this sphere for the past many years. This is how they have formed unions. Now these union-wallas have been disrupting shoots in and around Mumbai and intimidating makers ban-paki-actorsinto hiring their members (who pay them a yearly fee). This intimidation has resulted in many makers shifting their production away from Mumbai and even Maharashtra. In fact, much of the production has now shifted to Delhi, and even Gujarat, as makers are eager to avoid any confrontation with the hoodlums from these unions.
Realising that they are unable to force the hands of film-makers through disrupting the production, the parties are now trying to hurt them by stalling the distribution. I mean if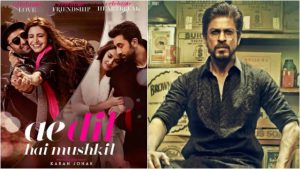 the film doesn't release, the producer and the distributor will lose hundreds of crores. Also, as most of the makers have come to a broader understanding of release-dates, so that no two big movies clash, any delay will complete upset the whole release schedule. That's why the makers like Karan Johar, etc, are extremely vulnerable and scared. And so are the stars, who have very high stakes in each of these releases. SRK, Aamir, Salman, apparently charge some 40-50 crore for each movie that they do. And if you see the credits, often times it will be their spouse who will be an executive producer (thereby making them part of the profits). Thus each 200 crore film ensures that some 150 crores land up in a very few selected pockets; actor, producer, director, distributor, financier and so on. The rest of the movie technicians ranging from the cameraman to the spotboy are paid a fixed sum from a few lakhs to a few thousand. Thus, in the case of "Ae Dil Hain Mushkil" the stakes are really big for Karan Johar as producer, Fox Star as the distributor, Ranbir Kapoor as the actor. If the money is to be made, it will be only made by this select lot.
Little wonder then, the whole industry is a big divided lot, with many vested interests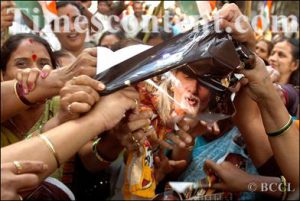 playing covert games. In all this melee, the political parties are having a field day. This is the reason, why our all powerful stars, who can take on an army of foes single-handedly in reel life, cower and whimper when they are confronted by a few hoodlums from the street. It's all about money, Honey. These stars don't want to risk the very many crores that they earn for a living. This aspect can be best judged from the Aamir Khan fiasco. When Aamir Khan had stoked the discussion on rising intolerance in India, SRK had come to his support and his subsequent release Dilwale had to bear the consequences of it. Thanks to the backlash Aamir was also lost out on quite a few endorsements. While these top stars in Bollywood are especially vulnerable, given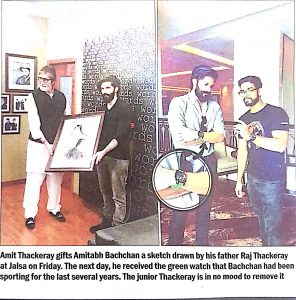 their religious background, the others are not all that free from the machinations. Amitabh Bachchan has been attacked for being an outsider for very many years. In fact, it was MNS that had attacked him and his wife on some light-hearted banter, forcing him to tender an apology. At that time, no one had come to Amitabh's support. This is why Bollywood is easy target for political parties. They are stinking rich, and they are royally scared. BTW, Raj Thackeray, the founder of MNS, recently sent a portrayed etched by him to Amitabh Bachchan through his son. How times change don't they?
Sadly for Bollywood, the current dispensation is also not peculiarly benign. In spite of having many Bollywood stars on the roster — Hema Malini, Shatrughan Sinha, Vinod Khanna, Paresh Rawal, and even Gajendra Chauhan — the party is pretty ambivalent to the happenings in Bollywood. Thus, no one from the central or the state government, where the party is in power, has spoken up in support. In 2010, when MNIK was under attack, the Congress party had put all its power to clamp down on Shiv Sena. But now that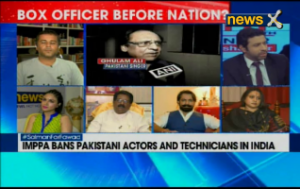 you have the very same Shiv Sena in the government, it is hard to expect the same. Little wonder, the biggies of Bollywood are unable to fathom a response. Take the case of Anurag Kashyap, who unable to lash out at the likes of MNS, has tweeted an angry response to PM Narendra Modi, asking the PM to apologise for his Pakistani visit. Actions like these will further widen the divide within Bollywood, as people who are aligned with BJP or want to earn brownie points with the current dispensation, will only attack Kashyap for his act.
In the end, as days goes by, Bollywood will be held for ransom from a plethora of forces, be it a group objecting to a use of a term in a song, or another asking for the city name to stated in certain way, and then of course, don't shoot here, don't feature this and so on. Back in 2010, it was KJo who had stood his ground on MNIK. This time round too, some one needs to really call this bluff. Strangely, I don't see anyone in Bollywood with sufficient balls to do so. The only time they show guts is when the cameras are rolling, the rest of the time — well, they are just a "bheegi billi".