For well over two hours, I was hunting across the narrow by lanes of Ville Parle (East), asking all and sundry whether they knew where Babubhai Mistry lived. Considering that his name was much in circulation till about a decade or so ago, I was hoping to find my way to him, through hard labor. Sadly, not one person could help us, and I was just about to give up in exasperation. In a last ditch effort, I asked a laundry fellow, whether he knew Babubhai Mistry, the ace cinematographer. Since, he could not fathom cinematography, I decided to dumb it for him. "Trick photographer, woh jo purana filmon mein sab bhagwaan log ko assman mein udaata tha aur heroine se train rukwata tha". Something clicked and the laundry wala lit up like a bulb, "Arre, tumko woh Trick-scene photographer se milne ka hain, ruko mein le ke chalta hon", he stated enthusiastically.
That is what the state was of Babubhai, when I met him in 2008. Sadly, Babubhai Mistry is a name not many are able to recall; even in Bollywood. The few that do, are completely oblivious to Babubhai's (as he was fondly known) state of affairs; whether he alive or is no more. And yet, just a few decades back, he was a star in his own right, dubbed as the 'trick scene director', he was the person who made it possible for Hanuman to lift the Gandhamadan mountain or Hatimtai to fly on a magical carpet in Hindi films. For over 50 years, Babubhai was the man who gave wings to film maker's and viewer's fantasies, he was India's premier special effects director with around 300 films to his credit as director or special effects cinematographer. Many dub his most active years, from 40s to 70s, as the age of the mythologicals (in another words, the age of special effects).
Once the computers and youngsters took over, he retired and settled down with his old memories at his place. Fortunately, I got to spend a few hours with him, as I was working on a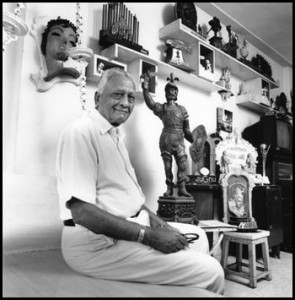 story for my magazine. Over these hours, we spoke about a time, how things were and how changed they are today. In spite of his age, he was touching 90, and not keeping good health, he spoke with much excitement through his interlocutor (who was his nephew). And in the end, he shared with me, a couple of hand-written pages in Gujarati. "It is my story, full filmy chhe," he smiled.
Since, I did not understand Gujarati, I did not pay much attention to it and almost forgot about it. The vagaries of life and work, kept me occupied. Till one day, Pa called and said that Babubhai was no more. Considering his age and state of affairs, it didn't come as much of a shock. But I was much saddened by the news, more so by the apathy of the industry at large, who seemed to be quite oblivious to the passing away of a legend.
It was then that I picked up those pages (my friend, Jasmine Desai and her mom had them translated in English for me, long back) and decided to share with the world, the story of a man in his own words. So, here below, you will find Babubhai Mistry's autobiographical take on how he started and how he went on to be the most celebrated trick photographer of his times. It is an interesting story, much like the films he directed. There might be some loses in the translation, but more or less, we have stuck to the original script.
Without much ado, let Babubhai tell his own story and may his soul rest in peace..
P.S. In the end, there is a Youtube link, on which I have uploaded a short video of Babubhai sharing his exploits.
**
When I was 14 years old, my uncle Rangil Das Painter, he was assistant painter in a Gujarati Natak Company. I was sent to the latter in Wardha, where the Natak Company was in those days. I reached there alone in a train. It was my first time alone in a train. Company's manager, Babulal B Naik, was a great admirer of my uncle. There was a reason for it, and it was that the curtains designed by my uncle for Naik's play troupe were much envied by other Natak companies. That's why; I was immediately hired as an assistant to the painter of Mumbai Natak Company at a monthly salary of Rs. 18. Gradually, I learnt to write the board of the play in the company. Sadly, the company closed after two years. Fortunately, for me, I got a job in another Natak company to write title-boards of plays. I used to earn Rs. 25 per month in this new job. But then, even that company shut down leaving me unemployed. My elder uncle called me to Mumbai; he was a Setting Master and Poster department head in Shri Krishna Film Company, which was located in Dadar. He used to be a favorite with the Boss. I got hired as an assistant in the Poster Department at Rs. 55 salary per month. That was the time when silent movies were made. There was no light available in the studio during that time, shooting was done with the help of sunlight and reflectors were used.
It was 1933, when I got his job. I used to reside at Mathura bhavan during that time. There was a tailors department next to Krishna Film Studios, owned by Gowardhan Patel, who was a cameraman at Krishna Film Studio. According to his directions and guidance, I used to make title-masks. Sometimes, I used to watch them being exposed at 1 tone. After a long time, Manekkar Patel made a full-fledged studio in Andheri. It was in this very studio that lighting was available for shooting.
After that Vijayshankar Bhatt's Prakash Picture, which was a film company started in Andheri. I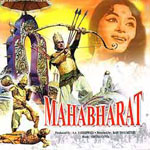 was hired there in the Poster Department at Rs. 65 per month. Whenever, I used to get time, I also used to work for the Setting department. At Prakash Pictures, manager Balachander Shukla liked my work and as a result my younger Bachchu was hired. Slowly and gradually, I became the head of Setting & Painting department. I always used to be present whenever there used to be a shooting on the sets, and whenever the shot was ready; I used to arrange the camera accordingly. This was much appreciated by the cameraman and the director. This is how; I started working a lot with the cameraman. This is when I told him to make a trailer it. As a result, I and the cameraman made the trailer of Prakash Pictures', 'Top ka Gola". This was really liked by the manager and his boss. After that I started spending a lot of time with the cameraman.
During that time, the movie, 'Invisible Man' was running in Mumbai, There were many camera trciks user in that particular movie. For e.g., one can see a cigarette being smoked and the smoke was all around, but no trace of any person doing that. Also, there was a shot, wherein one could see the piano being played, all by itself. In another shot, a telephone was lifter, numbers being dialed or drinks being consumed, but it was all done by an 'invisible' protagonist. There were many similar tricks used in the film. Director Vijayshankar Bhatt saw the movie. After watching it, he gave me money and told to watch it at Naaz theatre at Grant Road, where the film was running.
After watching the film, I told Vijubhai that I had no idea how they did such tricks in the movie, but that I could replicate some of those tricks. So, with the help of a cameraman, I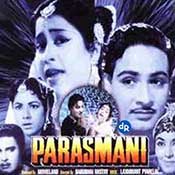 demonstrated for him some tricks like a cigarette being smoked 'invisibly' using a mesh of black threads, on a black backdrop. Vijubhai much liked the camera tricks and needless to say, I was rechristened by him as the 'Black Thread'.
Since, Vijay Bhatt had always been a writer, so inspired by the 'Invisible Man', he wrote 'Khwaab ki Duniya' in Hindi and commenced its direction. I was with him the whole-time during the making of the film. By the time the film was completed, I could do all sort of camera tricks. The movie was immensely successful. Even my name appeared on the screen, 'Trick – Babubhai Mistry. My salary was also raised and I was even gifted a radio set, along with lot of admiration and compliments for the camera tricks in the movie.
Balwant Bhatt was also a director at Prakash Pictures and his films used to be fairly successful at the Box Office. I used to spend a lot of time at the shooting of his movies. Around the same time, there was a studio by the name of Ajanta Arts located at Government Road, Parel; the studio was bought over by Chimanlal Trivedi, who started a film company named Circo. He was new in the film industry and he signed up Balwant Bhatt as the director. Since, I shared a good rapport with Balwant Gupta; he got me hired as an Art Director at Circo at a much higher salary, in comparison to Prakash. There were a lot many movies being made by Circo in those times, and I used to be terribly busy, working day and night, making good sets available on time. Another interesting thing was that it was the first-time that Chimanbhai Trivedi started a contract system. Through this contract system, artists, director, music director, story writer, could work here as well as at some other place. He started more movies in a while.
Due to my ability of making good sets in less amount of time, after sometime a person from Wadia Movietone came and asked me to meet Mr. Wadia at my convenience. After few days, I went to Wadia Movietone and spoke to JBH. All that he said to me was "Whenever you leave Circo, come and see me first." Ironically, shortly after this interaction, Circo closed down and I went and met JBH. I was hired in the Settings Department at Wadia Movietone.
They already knew that I was a 'Trick Master' and was also fond of direction. Around the same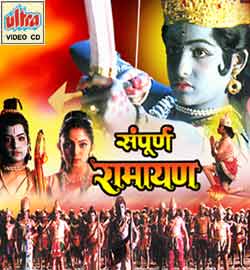 time, an English film 'Tycoon' was released. Based on that movie, Homi Seth was going to start a movie called 'Jungle Princess'. Nadia was to be the heroine of the film. During those days, Homi Wadia was much renowned for his action-packed stunt films. During the first interaction with Homi Wadia, I had confessed to him that I was much interested in direction. As a result, I worked with Homi Seth in Jungle Princess, as there were many trick shots in it. After I started working in the Direction department from the Settings Department.
In yet another movie, actresses Nadia was playing a double-role. With the help of masking, I took good shots in that film. The particular film went on to become a huge box-office hit. My confidence grew a lot and I asked Wadia Seth to give me a movie to direct. He asked to find a suitable script. It was then that I told him that my younger brother Bhatt was working in the Recording department and also worked on stories. If Wadia Seth permitted, I would call him. Since, Wadia Seth knew about the story writing capabilities of my younger brother, he approved of the idea. At the a meeting between Wadia Seth and Bhatt, I told Seth that if he gives us a movie, both of us would work on it together and direct it jointly. He agreed to the idea.
And so, we both (me and my brother) started working on the movie. A story was selected, the script made and the movie was titled as 'Muqabla'. Both of us together finished the film as per the schedule, It was premiered at Super Cinema in Grant Road. The movie was fairly successful, and so started my career as a Director and Trick Photographer.
I did two or so films with Homi Seth. After that, Wadia Seth sold the studio to V Shantaram. Also, the two brothers, Wadia Seth and Homi Seth, went their separate ways. Meanwhile, Homi Seth started his own production company named Basant Picture, and I joined him. After a few movies, Homi Seth purchased a plot of land in Chembur and set up a studio. But back in those days, it was like a jungle on the outskirts, with only a single shed in it. Hence, we were forced to shoot our movies in other studios. After two more movies, the financial health of the studio took a beating and an announcement was made, that from now onwards one will be paid based on the number of films made in a year. At that time, I was handling the setting department and staff supervision at Basant.
In those days, there used to be a good painter in the industry by the name of Kannubhai Desai. He had done setting, design and dress for one of the Shantaram movies, where his name had
appeared as that of an Art Director. Around the same time, a producer from Madras was making a film, 'Meerabai' with MS Subhalaxmi starring in it. He contacted Kannubhai for art direction. At that time, he was associated with Prakash Studios, and made sketches for dresses and sets for the film 'Ramayana'. Howe ever, he did not know how to create or arrange a set physically. Hence, Kannubhai asked the manager at Prakash, Balchandra Shukla, for a solution. Balachandra asked me, if I'd agree to travel to Madras for the movie to put up the sets. The money was also quite good. As in those days there was no direction work for me at Basant, I took up the offer. The only condition, I made was that the workers would be from Mumbai.
Thus Kannubhai sent a message to Madras stating that he won't be coming, instead one of his men, along with the staff would be travelling to Madras and have the sets and dresses made according to the sketches. On receipt of a go ahead from Madras, we got ready for the movie. In between, I asked Kannubhai to send me to Madras beforehand, to get acquainted with the studio and the environment. Kannubhai arranged for it and a man from Madras came to fetch me. His was name was Shankar and he was a Madrasi (colloquial for Tamilian) but yet could speak good Hindi, as he had stayed in Gandhi Gram earlier. He took me to the studio in Madras. It was named as Newtone and located in Kilpog. He introduced me to the studio's art director, and showed me around Madras. I stayed in the city for a week and then returned to Mumbai. Afterwards, 2 molders, 2 painters, 2 carpenters, and 1 tailor (all were well paid in comparison to Mumbai salaries), my wife, my brother Bacchu and his wife, moved to Madras. The production company had arranged for our accommodation and food.
It was in Madras that I met the American Director of the film; his name was Elis R Deccan. Prior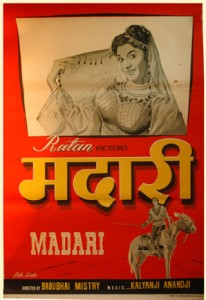 to the current film, he had directed a Tamil movie which had been quite successful, and thus he was well known in the circles. Yet the irony was that he did not know Tamil and only conversed in English. Meanwhile, I did not speak or understand either Tamil or English. Thus there was a language barrier and we used to communicate with each other with Shankar as an interlocutor, as Shankar was much at ease in all three, Tamil, English and Hindi.
Meanwhile, I was given a shed in the studio and even a few local workers. I started working on the sets and dresses based on Kannubhai's sketches. Back in those times, paper molding was used instead of plaster of Paris. I called for plaster from Rajasthan. The work was done quickly and more accurately with plaster. I even went to a potter shop in Madras and made him mould the vessels and have them colored in the Rajasthani pattern. We also created Rajasthani doors, windows and nets according to the sketches. It was during this time, that plaster was used for the first time in movies.
Another special thing was that MS Subhalaxmi, the renowned classical singer of those times, was playing the lead role of Meerabai. The film has four producers, namely:
1) MS Subhalaxmi's husband, who was publisher in Madras and owned a newspaper named Kalki.
2) Newtone's owner ATR.
3) Jiten Banerjee, a Bengali cameraman.
4) Dinshaw Terani Irani, he was married to a Parsi woman from Bombay.
After two months or so, the sets were created. The main attraction of the set, was the temple that we created. The beauty of the temple set, was that the pillars could be moved based on the requirement of the shot. So, if there was a trolley shot, the pillars could be shifted. This arrangement was much appreciated by the director and the cameraman.
Back in those times, reflecting boards were kept in the corners of the set for the sake of lighting. Keeping in mind the layout of the set, I designed special clamps made of iron, and placed them strategically on the set, so that the lights could then be hung up anywhere and the set will be well lit. This was a first time, such an arrangement was made in Madras. In fact, it was so popular in those times, that other cameramen used to visit our set just to see how the arrangement worked.
Meanwhile, I had also taken a tailor along with me from Maganlal Dresswalla from Bombay. He made beautiful costumes, as per the sketches. We also placed temple bells, Ashoka leaves and drums in the temple, as it would have been done in reality. So, when the shot used to be taken, we had a whole troupe of artists moving around in Rajasthani costumes, it almost made you feel as if one was shooting the movie in Rajasthan and not in Madras. Throughout the shoot, even when I was not required, I used to be present on the set. In fact, I almost lived off the sets like I did in Bombay. This was much liked by the director and the cameraman. After spending a few months in Madras, I could speak a little of English, as well as Tamil. 'Meerabai' was completed in 2 years. And by the time it was released, I was fairly well known within the Tamil Film Industry.
Around the same time Meerabai was released, another movie that I had directed earlier was released in Bombay. The name of the film was 'Yes Please' and it was released in a theatre in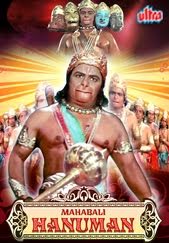 Mount Road. When I was done with Meerabai, I met with a person Mr. Sabhati. He was a manager in a film company, known as Pragati Movies. He offered me a job there and so, I joined Pragati as an Art Director and Director. So, my whole team which had been assembled from Bombay, returned back, while I stayed back with my wife. We lived in a place could Saaukayet, where there were many Gujaratis around. In fact, there was even a Swami Narayan temple in the locality. So, I used to travel to Mahilaput in a bus, where Pragati Studio was located.
Sadly, even after a year at Pragati, no new film was launched and I just idled away my time, eating food and drinking coffee. After much boredom, I resigned from Pragati and returned to Mumbai. I rejoined Basant Studios. That was the golden age of mythologicals, as a lot many of them were being made. So, the good thing was that trick photography was much in demand in those days. My brother Bacchu was also employed in the Setting department at Basant, as I was much busy with trick photography and required his help.
Around the same time, Kikubhai Desai's studio closed down. His two sons, Subhash Desai and Manmohan Desai joined Basant. Subhash Desai was kept in the Production by Homi Seth. After sometime, Subhash wished to make movies and expressed his desire to Homi Seth. Homi Seth asked him to make the movie with the help of the studio. Since, Subhash had been privy to my work, he decided to take me on as the Director. And so we started, 'Sati Naag Kanya', which was a huge box office success. Post that, we made another movie, which was again directed by me. It was an A-list film, with many big stars in it like Ashok Kumar, Pran and Nirupa Roy. The music of the film was given by Kalyanji-Anandji. Sadly, 'Bedard Zamana Kya Jaane' did not do well at the box office. Since it was a social genre, I had taken Manmohan Desai on as an assistant director to assist me,
Meanwhile, Homi Seth asked me not to work for other studios and lured me with an offer of directing a colored movie. The film was 'Sampoorna Ramayana' and it went on to become a Silver Jubilee. Subsequently, I got many more offers outside of Basant, with almost 4 times the money. Thus, I started directing many movies for other studios and did special effects for social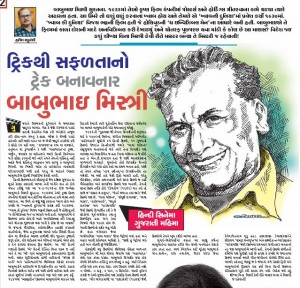 films. I used to make a handsome salary from all these films. Remember, this was the time much before the computers, and thus much difficult and tedious to have the effects done.
Over the years, I went on to direct many films, but mythologicals were always a soft spot for me. I directed 'Kalyug ki Ramayana' which had Manoj Kumar in the lead. I also gave special effects for Ramanand Sagar's 'Krishna' and BR Chopra's 'Mahabharat'. At last, I directed some 50 episodes for T-Series, 'Shiv Mahapuraan'. After that, my leg and eye had to be operated and I could not work anymore.
One of the highpoints of my career was that I had travelled to Madras specially to direct two movies, one was 'Naglok' in Telugu and the other was 'Maayam Chendu' in Tamil, with NTR and Vani in the lead. It was much an enthralling experience. Anyways, towards the end, the computers had taken over and people from the old school like me were outdated and not required anymore. And I reside alone, remembering all those bygone times..
You tube Link: Interaction with Babubhai Mistry