There was muted silence as a frail-looking man in black turtleneck and blue jeans took stage at the Yerba Buena center in San Francisco. Over the course of next hour, Steve Jobs took the hundreds on agog enthusiasts through one of the most anticipated launches of the year, iPad 2. Literally within minutes of the launch, the cyber world was abuzz with reports and analysis, with blogs, Facebook, Twitter, news sites, feeding the frenzy. Steve Jobs had done it again for Apple, he had ensured that even before the tablet was launched, people would be clamouring for it.
iPad's success is a brilliant instance of how innovation can be truly disruptive. It's not as if Apple invented tablets, the concept has been around for decades. In fact the first patent for an electronic tablet used for handwriting was granted in 1888. The first crystallisation of the concept was made by Alan Kay in the early 1970's, when he came up with the idea of DynaBook. And yet whenever most talk of tablets, they start with iPad. In a less than a year (iPad was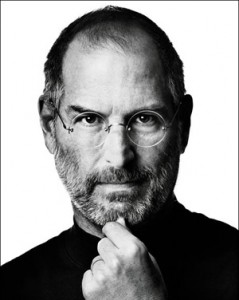 launched in Aril 2010), Apple has sold 15 million iPads in 2010 and 40 million in 2011. iPads account for 95% of the market. Apple achieved all this not merely by inventing alone, but by innovating, through careful evaluation of user needs and crafting solutions that meet those. The company is not inventive, but disruptive.
Going ahead, Apple can be a template for any enterprise that wishes to be successful. One needs to deliberately look ahead, peer into the future, and craft products and services that will be ahead of its time. In these days of hyper-competition, innovation is not enough, disruption is required. As IT leaders, you to need to pick a leaf from Jobs biography and make an attempt to be the same. Look at things around you, talk to customers, keep a tab on competition, check the flow of the tech winds. Study, analyse, evaluate, and once you have done so, do it again. Only through force and habit, can you be really be disruptive. Remember Jobs didn't create Apple in a day, it has been around for over three decades.
Thus, put on your thinking hat and start with a road map. Who knows – in the times to come, there might be many iPad like successes from this ancient land. There's already talk of Sakshat and Adam doing the rounds…