Of all the things that my editor is known for, sense of humor is not certainly one of them. So when he called me up and asked me, whether I would like to go to New York, I was a bit taken aback. He was sombre and so was his tenor, giving me little reason to suspect his intentions. "It is for a Juniper event, 3 days to Big Apple," he added. With nervous excitement, I acquiesced and from that day onwards (till I came back), all I could think of is New York.
It was a roller coaster ride, many ups followed by the downs. As I had decided to stay back for a few more days, 4 more to be precise, there was a lot that needed to be done, right from finding a roof to arranging the moolah.
To cut the long story short, this piece isn't about my trials and travails in the US, but rather the impressions that have formed on my mind and what I bring back from the continent.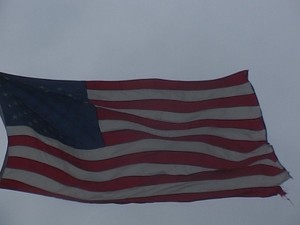 As my plane landed on a chilly January dawn at Newark International Airport, the first thing that came to my mind was the sheer scale of the complex. I could see from the air itself, that the place was mammoth. And once I disembarked, my doubts turned into reality; there were some hundred odd terminals and more. Newark Airport is some 20 odd miles from New York, in the neighboring state of New Jersey. It took some thirty minutes drive to reach my hotel on 50th street, the New York Palace Hotel. Right next door to the hotel was the St. Patrick Cathedral that seemed to be inspired from maestro Antoni Gaudi's famous Sagrada Familia Church in Barcelona. And so was the famous Rockerfeller Center, some meters away.
Mapping Manhattan
In many ways, walking in between those sky-reaching towers gives you a sense of deja vu . Have we not seen this somewhere is a constant hum that keeps reverberating through the conscious mind and there are valid reasons for it. New York City (I will henceforth use the rather stylish acronym NYC) has been captured on celluloid innumerable times. So when Spiderman is shown slinging his way through the rather narrow streets of Downtown, or how Robert Neville (Will Smith) in I am Legend , finds out in the empty streets of Manhattan that he isn't actually the last man standing, or even John McClane (Bruce Willis) and a store owner play a bomber's deadly game as they race around Broadway while trying to stop him. Closer to home, a certain Mr. Karan Johar, has canned NYC almost exclusively in the very few films that he has made (thank heavens).
So returning to where I started, walking through the different avenues (think of them as latitudes) and different streets (more like longitudes), I would often nod to myself recalling the place from some unknown corner of my memory.
I read somewhere that it is easy to discern a tourist in NYC; they walk with their heads up. So in spite of the fact that I didn't want to seem like a tourist, I could not help admiring the glass giants that lined the streets of the city. It is hard not to be amazed at the way they have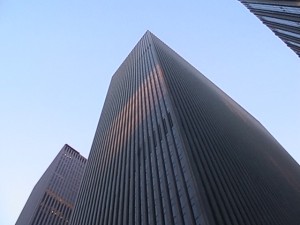 imagined and then went on to create a modern city like this. In fact, NYC has the most numbers of skyscrapers, more than any other city in the world, over 4000 of them.
NYC is made of 5 burroughs (that's what they call them) Manhattan, Bronx, Brooklyn, Queens and Staten, for all practical purposes, Manhattan is the heart of NYC. In Manhattan, you can almost find everything, from the American Museum of Natural History to Broadway to Chinatown and Harlem. There is this open top tourist hop on-hop off bus that takes you around Manhattan for some $40, giving a feel of the buzzing center.
The most alluring place of Manhattan is Time Square, it is so lively and enthused, all those big LCD screens on building streaming adverts, those neon signs, those colorful hoardings, they all lend a carnival kind of atmosphere and as the day fades out the party keeps getting bigger and livelier.
Process Driven
One of the most endearing memories of the US is that of ordered lives of its citizens. For instance, in Manhattan every block has a signal for pedestrians and cars. Now, even in the late hours, when there was almost no cars and no cops in sight, I found drivers and pedestrians alike patiently following the signals.
Coming from a nation, where it is an issue of pride and honor not to follow the rules, the pedagogical obsession of the Americans comes as a rude shock. And after some adjustments, once you start following them yourselves, a realization dawns in, following rules can be cool, it can be so nice and so easy for all concerned. I saw a whole lot of Indians there who were astutely following the Stop and the Go signs, and I was wondering, if and when they return to India, how will they cope up or rather how relieved they will be.
Not only that, much to my amazement and much in contrast to the popular perception, I found the citizens to be courteous and not curt. While traveling through the Metro Labyrinth, I used to be quite at sea. You had trains in Blue, Yellow, Orange, and Purple on the map and further on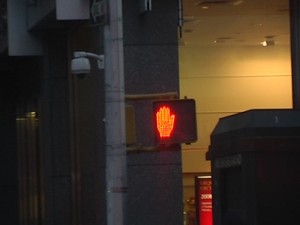 there would be the A, B, C, D, E lines. At all these times, I would enlist the help of any individual that was nearby and ask for guidance. Each and every time, they patiently listened to my query (my desi accent must have been tough to follow) and then guided me all along. I recall an incident, I was on the 59th Street station and missed a C train by a fraction of a second, and when I was lamenting the fact to the person who informed me of the same. He smiled and retorted, "But boy, it is your lucky day," after a pause, he continued, "You get to speak to me." Not only were they helpful, they had a sense of humor to boot as well.
Other times, when I used to board the transit buses in New Jersey (NJ for effect), the drivers would wish you with a smile, "Good morning" or even a warm "How r'ya".
A Nation of Shopaholics
While in America, I also got to experience first hand the consumerism that it is renowned for. Almost all the shops in Manhattan had a sale sign outside proclaiming 50% discounts over even 'Going Out of Business" sale. I even spotted a sale sign on Saks on 5th Avenue, the departmental stores for the hoi polloi (it is another matter that I couldn't muster enough courage to enter even with that sign on). After American Football (Rugby for us), shopping seems to be the favorite sport for Americans and little wonder that every company seems to be cashing on that craze.
My trip to Wal-Mart was amazing; I for one had never seen so much variety at such bargain prices. The Wal-Mart at Woodbridge was huge and was told by my guide and colleague that this one was no exception as all the other Wal-Marts or K-Marts are as big if not bigger. I went to Circuit City and Staples in Jersey City and they were indeed huge. And more often I would find most of these malls in a single location, right next to each other, making it easier for the shoppers, so as to say.
Even so, online seems to be the most favored way of shopping for most Americans. All these shops like Best Buy, Wal-Mart, etc. have an online store and once you have made a purchase you can ask it to be shipped to a store nearby from where you can pick up the good. And there is just no limit to what you can purchase online, right from cars to menial help, everything and anything is available on the Web.
The best thing about shopping I liked was the culture, when you enter the shop you are not obliged to buy. At no shops did I have shop assistants coming to my aid or shopkeeper making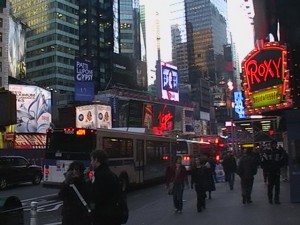 aces if I left without buying anything. From the costly jeweler to the lowly mom & pop shop, you could breeze into a shop look around and breeze out, if you didn't like anything on display. In fact almost all shops have a return policy, you can return the good you purchased within a fixed period, and no questions will be asked. They really treat the consumer as a king.
So how are the prices for us Rupee-Dollar conversion freaks? Well, the rates in the US and India are almost similar for things like clothes, cosmetics and other stuff. As now, one can find all the foreign brands in India; there is no real compelling reason (except survival from a homicidal spouse) to really buy stuff there. But, there is one thing that indeed is cheaper, in fact much cheaper, that is electronics. Right from MP3 players, camcorders to laptops, all the gadgetry seems to be quite inexpensive when rates back home are considered. At Circuit City and Best Buy, I found a lot of tourists (mainly Indians) purchasing laptops and digital cameras. I have a doubt that the domestic market in the US is being pushed up by the purchases made by Indian brethren whereas the markets here continue to suffer.
Master Marketeer
Talking of shopping, credit is due to the genius marketeers that Americans are. Everywhere I went, not only did I find avenues to shop but compelling reasons to do so. Take the case of American Natural History Museum; the 4 or 5 storey museum has some 5 shops, known as museum shops. There is a master one at the entrance, where you can find anything from magnetic stones to precious stones. And then there are museum shops for each exhibition or section. For instance, near the planetarium there is the Planetarium shop that sells goods and mementos around the things on display. Outside the Water Exhibition, there was a shop that sold things that mapped to the display. These guys really did a lot of work on the details and the relevance of the products on display. Little wonder, I was almost coerced to part with some $15 to buy a small lunar module toy, after visiting the moon section.
Even at Liberty Island, no sooner do you enter (also the time you exit) there is a shop that sells products around lady Liberty. Once inside, just next to the museum, there is another shop that sells goods around her. It is hard and almost impossible not to reach out for the wallet and purchase one memento to remember the visit. Even the poly-resin figurine I bought for $20 is wrapped in a cardboard box that is made out of recycled paper (and proclaims so boldly); on one side there is all the history that a small cardboard box can contain. Truly well thought out!
On my way back, I was wondering there is so much that we can do back in India, if only we had the vision. Imagine going to Hampi and being able to buy small handmade figurines, or going to Gateway of India and being able to purchase a copy of the original architectural plan. There is so much that could be done but is not.
Broadband est bella
It was in the US that I really had the experience of Broadband; or rather you could say the magic of it. Surfing is a breeze, and my friends at NJ were streaming live TV on their laptops. They were watching Indian news channels and could have watched, if they wished, popular channels like Star Plus and Sony, live on their laptops. The 2 mbps speed is truly 2 mbps, quite unlike in India.
Thus, Internet has become an integral part of the American life. This is how my Indian friends live in NJ: Getting up in the morning, they first check the forecast, followed by the mails, the
television comes next, few of them have e-learning classes on the Net, some shopping on the Web if need be, if they have to go somewhere, Google Maps is the first step, and in the evenings, they chat with their pals and folks back in India and just before they doze off, they check the mails again, and the forecast for tomorrow and watch a bit of television again. Internet was their lifeline, and they at all time are constantly peering into the laptop screen. And they assure me that this is almost the case everywhere. I think it must be for migrants, the original inhabitants would surely have better things to do than cruising on the cyber highway.
Fear Factor
In Bowling for Columbine, Michael Moore talks of how Americans lead a fearful existence, they are scared of so many things and in case they are not, there will always be people who will be scaring them. I found that to be true. Everything and everyplace had a dire warning on it, for instance there was an inflatable ball and on it there were four lines of warning, not suited for kids, etc. Now tell me, if it isn't the kids who will play with a ball, who else will?
Every food item has a warning; there are cautionary warnings on the bus, the trains and even in the cabs. Switch on the television, then there are these adverts that scare the wits out of you, if you blink your eyes more than 18 1/2 times, you could be suffering from autonomous eyelid disorder. While watching one of these adverts, I realized that I was suffering from the same symptoms and was almost tempted to call the toll-free number for help. When the next advert came, I realized that I was suffering from that ailment as well, so I thought I would let things be.
Post 9/11, the fear has only increased. So if you look suspicious (or like me) you are bound to raise a few eyebrows. Everywhere there are tiers of security; they made us take off everything (except for our clothes) on the way to visit Madame Liberty. So is the case at airports and most of the tourist places. But then, I don't complain, considering the odds (so many baying for American blood) I think a little inconvenience is anytime more preferable and cheaper than incompetence and ignorance (the kind witnessed in Mumbai).
Things That Make You Go Ugh!
There were a few things that I did not like, and it is quite subjective in nature. First Coffee, it is really sad that Americans are completely oblivious to the wonders of coffee, as they do not know how to make a good one. All the time, they drink a black concoction and then label it as coffee. Now what is a good coffee, if it isn't coffee colored (thanks to the milk in it)? It is a real shame.
Then I could not understand that for a country that was so conscious about environmental issues, etc, they use tissue paper indiscriminately. Everywhere, there will be dollops and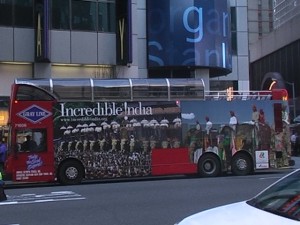 dollops of paper, at Starbucks, at MacDonalds, everywhere. In fact, I do not subscribe to their potty culture as well; it is downright detestable (Why paper, when there is water!).
And the little said about the food is better, they (Yankees) seem to be obsessed with our Gao mata (good ol' Cow), there is beef everywhere that you go. Making it tough for shudh shakahari like me to be free and enjoy the cuisine.
It gets pretty lonesome in the evenings and especially so in the night. As people live in individual houses, there is hardly any brouhaha that we are accustomed to in India. The silence is a bit unnerving at the start.
Welcome to United States of Gujarat
The best thing about traveling in NY and especially so in NJ, was that Indians are ubiquitous. Anytime of the day and you could always find a brownie, 2 seats away on the bus or the train. Most of the small transactions, like buying grocery or newspaper can easily be done in Hindi, as Gujju brothers own quite many businesses in NJ. I came across a Subway in Kearney that was owned by a Gujju and so is Krauzers, a chain of grocery store. In fact, Iselin is known as Little India, thanks to the bustling Indian population. For the first time, during my stay I ate great South India fare, at a "Pure vegetarian" restaurant Saravana at Iselin. I just felt like I was in India, as the music, ambiance and the food were completely desi , except that one had to pay in Dollars.
At a mall in Woodbridge, I came across women dressed up in Sarees or Salwar suits and the parents talking to their small kids in Marathi or Gujarati (probably to make them learn). Never for once, did I feel out of place, when I was in NY or NJ. I also came across a mutant Indian breed known as ABCD, American Born Confused Desi , these poor mortals detest us pure Indians and would make it a point to talk in a made up accented language to highlight the difference. I came across a Gujju shopkeeper at a wine store, while I spoke to him in Hindi; he made it a point to speak to me in English (all the while talking to his mate in Hindi).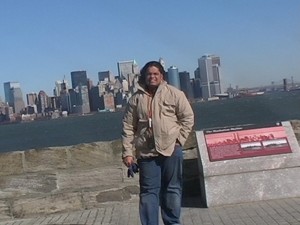 Also after a long time, I felt like an Indian. Because, everywhere that I went, be is a South Indian or Gujarati or a Marathi, we all connected to each other as Indians. There was bonhomie, a feeling of brotherhood. Sadly, it is in India, that you do not feel the same (the moment I landed in Mumbai, I was rudely awakened from dream by the fight between Bhaiyyas and Marathi Manoos )
And I come to an end of my American tales, there is so much that I have learnt and cherish that I could just keep talking on and on. Like any other tourist to the land of opportunity, I have come back quite impressed by the culture and place. But the most impressive thing remains to be the thing that impressed me at first: the sheer scale and size of the buildings, the flyovers, the Wal-Marts, the airport, everything. I am reminded of a quote that I came across at Liberty museum, Auguste Bartholdi (the man behind the Statue of Librety) had traveled across America in 1870s and was very impressed by the land and its people. "Everything in America is big, even the peas," he had stated. All I would like to say is, Ditto!