For well over two hours, I was hunting across the narrow by lanes of Ville Parle (East), asking all and sundry whether they knew where Babubhai Mistry lived. Considering that his name was much in circulation till about a decade or so ago, I was hoping to find my way to him, through hard labor. Sadly, not one person could help us, and I was just about to give up in exasperation. In a last ditch effort, I asked a laundry fellow, whether he knew Babubhai Mistry, the ace cinematographer. Since, he could not fathom cinematography, I decided to dumb it for him. "Trick photographer, woh jo purana filmon mein sab bhagwaan log ko assman mein udaata tha aur heroine se train rukwata tha". Something clicked and the laundry wala lit up like a bulb, "Arre, tumko woh Trick-scene photographer se milne ka hain, ruko mein le ke chalta hon", he stated enthusiastically.
That is what the state was of Babubhai, when I met him in 2008. Sadly, Babubhai Mistry is a name not many are able to recall; even in Bollywood. The few that do, are completely oblivious to Babubhai's (as he was fondly known) state of affairs; whether he alive or is no more. And yet, just a few decades back, he was a star in his own right, dubbed as the 'trick scene director', he was the person who made it possible for Hanuman to lift the Gandhamadan mountain or Hatimtai to fly on a magical carpet in Hindi films. For over 50 years, Babubhai was the man who gave wings to film maker's and viewer's fantasies, he was India's premier special effects director with around 300 films to his credit as director or special effects cinematographer. Many dub his most active years, from 40s to 70s, as the age of the mythologicals (in another words, the age of special effects).
Once the computers and youngsters took over, he retired and settled down with his old memories at his place. Fortunately, I got to spend a few hours with him, as I was working on a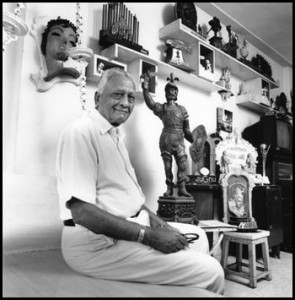 story for my magazine. Over these hours, we spoke about a time, how things were and how changed they are today. In spite of his age, he was touching 90, and not keeping good health, he spoke with much excitement through his interlocutor (who was his nephew). And in the end, he shared with me, a couple of hand-written pages in Gujarati. "It is my story, full filmy chhe," he smiled.
Since, I did not understand Gujarati, I did not pay much attention to it and almost forgot about it. The vagaries of life and work, kept me occupied. Till one day, Pa called and said that Babubhai was no more. Considering his age and state of affairs, it didn't come as much of a shock. But I was much saddened by the news, more so by the apathy of the industry at large, who seemed to be quite oblivious to the passing away of a legend.
It was then that I picked up those pages (my friend, Jasmine Desai and her mom had them translated in English for me, long back) and decided to share with the world, the story of a man in his own words. So, here below, you will find Babubhai Mistry's autobiographical take on how he started and how he went on to be the most celebrated trick photographer of his times. It is an interesting story, much like the films he directed. There might be some loses in the translation, but more or less, we have stuck to the original script.
Without much ado, let Babubhai tell his own story and may his soul rest in peace..
P.S. In the end, there is a Youtube link, on which I have uploaded a short video of Babubhai sharing his exploits. Continue reading …