Frankly speaking the war over the ban on meat in Maharashtra is not just a matter of palate or choice, but is a political war with currents that run much deeper. In fact, the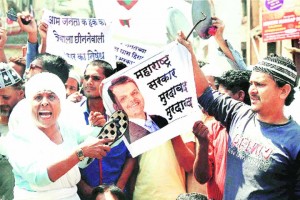 The controversy over the meat ban in Maharashtra, has less to do with Meat more to do with Modi. outrage against the ban has more to do with Narendra Modi as the PM, than the availability of chicken-koliwada on the streets of Mumbai.
Ever since, Modi has ascended to the top seat in Delhi, there has been much discomfort in Maharashtra, as to how to really deal with him. You see, for a very long time Chief Minister Modi of Gujarat was a big time rival of Maharashtra, and he made no bones of it. On a typical day, he would wean away the corporates with his Vibrant this and that, tom-tom 'the 24 hours' of power availability in state (as against load shedding in Maharashtra), or talk about how farmers are thriving in Gujarat (while committing suicide in Maharashtra). Since, there was a Congress Government all the while Modi ruled in neighbourly Gujarat, he invariably always attacked Maharashtra, to showcase how well Gujarat was doing. He was like the schoolboy who spoke most and shone brightest, while the rest sulked, especially Maharashtrians.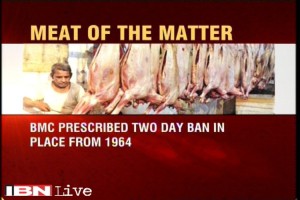 Historically too, Maharashtra and Gujarat were rivals for a long time (even though they did not really exist back then). There is an economic history behind it. The Britishers first established their 'factory' in Surat, which essentially was a trading place for Indian goods to be exchanged with those of the British. This made Gujarat (especially Surat) the financial hub. So much so, that when Shivaji was running short of money, he ransacked the city (then under Mughal domination) and made off with much booty. That was essentially the first clash, but it send the agenda for subsequent interactions. When Bombay came into being as a trading post, it were the Parsees from Gujarat that took the lead. When the state of Maharashtra was being created from Bombay Presidency, the Gujjus, especially Morarji Desai opposed it. He had even advocated creating Bombay as a union territory. The rivalry, so, is not really a new one.