Bollywood, the largest film industry in the world, has finally come to terms with computing power, as more and more filmmakers are jumping on the VFX bandwagon for cost or for glory.
Babubhai Mistry is a name not many are able to recall; even in Bollywood. The few that do, are completely oblivious to Babubhai's (as he was fondly known) state of affairs; whether he alive or is no more. And yet, just a few decades back, he was a star in his own right, dubbed as the 'trick scene director', he was the person who made it possible for Hanuman to lift the Gandhamadan mountain or Hatimtai to fly on a magical carpet in Hindi films. For over 50 years, Babubhai was the man who gave wings to film maker's and viewer's fantasies, he was India's premier special effects director with around 300 films to his credit as director or special effects cinematographer. Many dub his most active years, from 40s to 70s, as the age of the mythologicals (in another words, the age of special effects).
Till around 1970s, Indian and Hollywood films were more or less the same in terms of usage of technology and output. When Babubhai made Mahabharata in the 60s, around the same time Hollywood saw the release of The Ten Commandments, Benhur or the King of Kings. There wasn't a major difference in the way action sequences were displayed in these movies.
All that changed with the emergence of George Lucas on the international scene. Lucas' Star Wars in the 1970s opened the realm of possibilities with the use of robotics and computer effects. Meanwhile, Steven Spielberg brought to life aliens in E.T., dinosaurs in Jurassic Park, sharks in Jaws and alien machines in War of the Worlds. Hollywood had discovered the magic of computers and was eagerly trying to redefine the realm of possibilities.
Finally, Peter Jackson went a notch higher, the Lord of the Rings trilogy proved what modern high-end computing can achieve. And if that was not enough, he put life in the giant ape King Kong. Visual Special Effects or VFX in Hollywood is getting bigger and bigger by the day, every year big blockbuster movies are released that heavily rely on VFX to pull the audiences.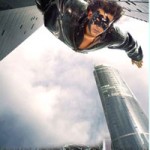 In sharp contrast, Indian films lagged as filmmakers persisted with the same old techniques. The reluctance to adopt computing platform resulted in a yawning gap between Indian films and the ones made in Hollywood. So, while the two were on the same level till the 70s, over the next 2-3 decades, Hollywood raised the level of moviemaking to such an extent that the comparison itself seemed laughable.