Bollywood, the largest film industry in the world, has finally come to terms with computing power, as more and more filmmakers are jumping on the VFX bandwagon for cost or for glory.
Babubhai Mistry is a name not many are able to recall; even in Bollywood. The few that do, are completely oblivious to Babubhai's (as he was fondly known) state of affairs; whether he alive or is no more. And yet, just a few decades back, he was a star in his own right, dubbed as the 'trick scene director', he was the person who made it possible for Hanuman to lift the Gandhamadan mountain or Hatimtai to fly on a magical carpet in Hindi films. For over 50 years, Babubhai was the man who gave wings to film maker's and viewer's fantasies, he was India's premier special effects director with around 300 films to his credit as director or special effects cinematographer. Many dub his most active years, from 40s to 70s, as the age of the mythologicals (in another words, the age of special effects).
Till around 1970s, Indian and Hollywood films were more or less the same in terms of usage of technology and output. When Babubhai made Mahabharata in the 60s, around the same time Hollywood saw the release of The Ten Commandments, Benhur or the King of Kings. There wasn't a major difference in the way action sequences were displayed in these movies.
All that changed with the emergence of George Lucas on the international scene. Lucas' Star Wars in the 1970s opened the realm of possibilities with the use of robotics and computer effects. Meanwhile, Steven Spielberg brought to life aliens in E.T., dinosaurs in Jurassic Park, sharks in Jaws and alien machines in War of the Worlds. Hollywood had discovered the magic of computers and was eagerly trying to redefine the realm of possibilities.
Finally, Peter Jackson went a notch higher, the Lord of the Rings trilogy proved what modern high-end computing can achieve. And if that was not enough, he put life in the giant ape King Kong. Visual Special Effects or VFX in Hollywood is getting bigger and bigger by the day, every year big blockbuster movies are released that heavily rely on VFX to pull the audiences.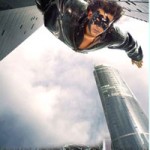 In sharp contrast, Indian films lagged as filmmakers persisted with the same old techniques. The reluctance to adopt computing platform resulted in a yawning gap between Indian films and the ones made in Hollywood. So, while the two were on the same level till the 70s, over the next 2-3 decades, Hollywood raised the level of moviemaking to such an extent that the comparison itself seemed laughable.
Nonetheless, Indian film makers finally seem to have woken up to the charms of computer generated VFX and gradually more and more films are starting to use VFX for a variety of reasons. The initial thrust was provided by Rakesh Roshan, when he made the science-fiction thriller "Koi Mil Gaya". From then on, VFX has played a role in almost all big budget films, like Dhoom (1&2), Guru, Sivaji, Jodhaa Akbar, Race, and others. "VFX in India is coming up in a big way. Over the past 2-3 years, filmmakers are ready to experiment and explore new possibilities. These are ominous signs for the VFX industry in India," says Merzin Tavaria, creative head (VFX/Animation), Prime Focus.
The VFX that you don't see
While in the west, you see a lot of in your face VFX, in films like Pirates of the Caribean, The Day After Tomorrow, War of the Worlds, and so many others. This genre of VFX intensive and CG driven movie is largely absent in India. Thus, while Krish starring Hritik Roshan was a big hit, there is still debate as to whether the audience went to see Krish or Hritik, doing all those magical stunts. With no real consensus, Indian film makers would rather pay a few more crores to a saleable star than invest in VFX. Hence, producers and directors in India go in for a lot of 'unseen VFX'.
Unseen VFX, is basically the effect that an audience is unable to decipher as computer generated. In fact, the VFX success lies in its ability to convince the viewer otherwise.There are a plethora of reasons why film makers are going in for this variety of VFX. Take for instance a sequence in the film Guru, in which Abhishek Bachchan and Mithun Chakraborty are seen talking to each other while walking on Marine Drive. Now as the time period is around 70s, Mani Ratnam wanted to have old Mumbai skyline in comparison to the modern one. Also it would have been hard to shoot the sequence on location in Mumbai, considering the amount of crowd and the other permissions, etc. involved. The solution was simple, the sequence was shot in Pondicherry, while the team at Prime Focus manually created the old Mumbai skyline and the waterscape.
Meanwhile, Pankaj Khandpur, creative director, Visual Computing Labs, Tata Elxsi, talks about a similar sequence that his team had achieved for Rang De Basanti. "In one of the sequences of the film a Mig 21 was shown flying above the actors. Also there were numerous shots of IAF airbase shown in the movie. All of it, was created and existed solely in our hard drives," he says. It is this variety of 'unseen VFX' that most of the film makers seem to be going in for nowadays.

Costly or cost-effective
One of the most common reasons that film makers give for not really going the whole VFX way, is that it is quite a costly affair. While in Hollywood films, VFX could account for over 50% of the cost of production, in India it is barely touches 10% in rare cases. Abhishek De who is working with Future Works on films like Mission Istanbul feels that cost is a major factor for film makers. "A visual effects sequence can cost anything from Rs. 5000 to Rs. 50,000 per second, or more, depending upon the complexity of the shot. Typical Hindi movie budgets are not in the position to commit that kind of money. VFX is not cheap there is a lot of manpower that goes into every project, it isn't a commodity. Thankfully the mindset beginning to change," he says.
Khandpur debunks the costly premise all together. "On the contrary," he says, "VFX is a great tool to save money." He gives an instance of a sequence that was done by VCL for Dhoom 2. "In the film, there is a sequence, where Aishwarya Rai and Hritik Roshan are shown stealing a rare valuable from the Mehergarh fort. In it , the duo is shown jumping down a 400 foot rocky cliff. All of it was done in our studio, on a specially erected  12X12 feet set. Imagine, if the makers had to shoot the scene in real life, it would have been far more expensive and also very tedious and time consuming. So looking from that light, VFX can be used as a tool to save money," he states confidently.
Surely, money wasn't a matter at all for the makers of the film Sivaji who spent a quite a few crores on a 6 minute song clip in which Rajinikanth appears in a white avatar (read the box for more detail).

Technologically challenged?
Are Indian VFX studios lacking in terms of technology usage is a big question that plays on all minds? Not really. Almost all major studios in India like Prime Focus, VCL, Prasad EFX, Maya, etc. are using high-end systems like Inferno, Flame, or Flint. In fact, India is one of the fastest growing markets for Autodesk, the company that manufactures and sells these high-end machines.
There is a big reason why Indian studios are at par with the Hollywood Studios, thanks to the miracle of outsourcing. A lot of Hollywood films are outsourcing their graphic intensive work to studios in India. Films like Spiderman 3, Chronicles of Narnia, Superman Returns, and others have seen Indian studios contributing to them. This has brought Indian studios on the same technology platform, slowly this is percolating to the domestic studios as well.
And when you can't learn fast enough, there is always the option to buy like Prime Focus did. "We recently acquired a company in the US for the spreading our base, but more importantly for the technology IPR it has created," says Tavaria.
A critical aspect of Hollywood studios is that they develop a lot of proprietary software depending on the project in hand, like Weta had done for Lord of the Rings (read Jim Rygiel's interview), Indian companies are also waking up to the need to do R&D. "Tata Elxsi is a software company with over 3000 engineers, we have a team of software programmers that develop proprietary platforms for us and we are constantly working at devising new and innovative solutions for our maker," says Khandpur. An instance of it was seen in the recently released Jodhaa Akbar, in which a whole battle sequence that displays thousands of soldiers was created by using a few hundred actors with the aid of massive replication technique perfected by Weta in LOTR.
Meanwhile, Jesh Krishna Murthy who has worked on films like Batman Returns, Lara Croft Tomb Raider, The Cell, etc. and has set up shop in India by launching a company called Anibrain, argues that it isn't all about technology. "VFX is not about machines or software; it has more to do with pushing the limits. I do not see many people in India doing that. And unless we really push ourselves hard, like developing software solutions, plug-ins, etc., we will never reach the level Hollywood has," he says.
Indeed almost all VFX gurus be it Khandpur or Tavaria, all agree that the biggest stumbling block is the lack of trained individuals and training mechanisms. While a few studios like MICA and others are training people, the requirement is much higher. With films like Love story 2050 on the anvil, Indian films are steadily raising the bar in terms of tech usage, and require a much bigger talent pool than currently exists.
Nonetheless, the future seems to be full of action for Indian VFX professionals. For instance after the success of Sivaji, Rajnikanth will next be appearing an animated avatar, Sultan the Warrior, produced by his daughter Soundarya Rajnikanth and Adlabs. The film, the first of its kind in India, promises to break new ground in the use of CG and VFX. Meanwhile, Tavaria is very hopeful about the success of Love story 2050 that will be released this year. "Love story 2050 is a path breaking film in terms of CG usage in India. It is a science fiction loves story, we have created futuristic sky scrapers of Mumbai, conceptualizing the plan of the city. It is visually stunning and will completely bowl the audience over," he says.
Meanwhile, octogenarian Babubhai continues to live in suburban Mumbai, and is a mute spectator of the brilliant explosion of the art that he nurtured till sometime back. While, he confesses that he has not seen many of the recent releases, he is quite impressed with the few that he has. "These computers are wonderful things," he says, adding, "if only they existed during my times what all things I could have done." Not surprisingly, the Indian film industry would also like to have a few more passionate Babubhais to drive the VFX impetus.
*************
How Rajinikanth got a European skin?

In the latest Rajinikanth starrer Sivaji, the director Shanker wanted to change Rajini's wheatish complexion to a white European complexion. The challenge was picked up by Indian Artists. To begin with the studio conducted an in-depth study of the European complexion and realised that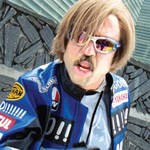 the job was more challenging than previously thought. For instance, it was found that the white skin reflects more light and has less shadow when compared to dark skin and is translucent in some areas. Therefore a simple color correction of the Rajini's skin would not achieve the desired effect.
For the shoot a London based young white lady was chosen and with the help of cinematographer KV Anand every single shot of Rajini was re-shot with the model. After the final edit all the 630 Rajini shots and 630 girl shots were scanned in 4K resolution. Each of the 9000 scanned frames ware rotoscoped to separate the body parts (face, hands, legs etc.). The white lady's skin was mapped onto the super star's image using Eyeon 'Digital Fusion' software. And that is how Rajini got a European white complexion.
The two main challenges before the studio were to match the girl's action with that of Rajini and the second was matching both of their body proportions during mapping. The work involved was laborious and painstaking. It took 25 dedicated CG technicians almost a year to achieve this 6 minute feat and cost the company a few crores of Rupees. "The project lot of hard work and immense detailing. I do not think, any other studio has attempted this kind of work. At the end we are happy that we were able to pull it off, considering the kind of attention any Rajinikanth starrer gets," V. Srinivas Mohan, visual director, Indian Artists.
So what was the end result? Well, Rajini's fans happen to love him in almost any avatar that he dons, and they seemed to love 'whiter' Rajini as much as they do the 'darker' one. It doesn't matter, if Rajini is black or white.
Additional links to other VFX stories by me:
State of VFX in India (http://shashwatdc.com/2007/07/feature-state-of-vfx-in-india/)
Interview: Jim Rygiel (Three times Academy Award winner for LOTR) (http://shashwatdc.com/2007/07/interview-jim-rygiel/)