"Is the climate change situation as dire as you make it sound?" Is invariably the first question that any interviewer puts to Dr. Rajendra Kumar Pachauri, chairman of the Intergovernmental Panel on Climate Change (IPCC) and the director general of The Energy and Resources Institute. Ever since 2007, when Pachauri came out with earth shattering commentary that our planet was moving rapidly towards an ecological disaster of gargantuan proportion, somewhat of an Eco-Armageddon and it was human activity that is responsible for the same; he has been hailed as a hero and reviled as a villain across the globe. Since, then Pachauri has been asked above question over and over again, and yet the environmental Nostradamus always answers the question calmly and lists down all the dangers that confront us in a solemn demeanor.
For western nations like the US that after years of releasing obnoxious pollutants in the atmosphere and wanting other nations like India and China to take a commitment first, Pachauri is a somewhat of a bogeyman. Nonetheless, he has taken a strong stance on what the world needs to do forestall the doom and how the developed countries should not merely shift the onus and blame to developing countries. In recognition of his efforts and those of IPCC, the Nobel Committee conferred on IPCC and Al Gore, the Nobel Peace Prize in 2007. In his acceptance speech on behalf of IPCC, Pachauri had invoked the Sanskrit adage, vasudev kutumbakam (the whole universe is one big family) and asked everyone to contribute to the fight against climate change.
Post Nobel, Pachauri turned into the most recognized face of climate change and he continues to invoke the same vasudev kutumbakam principle to ask all to join in the challenge. In a special discussion, he talks about the ways in which Indian corporate sector can play a significant role in battle, on CSS, nuclear energy and so many other things.
Whenever, we talk about climate change it is often from a macro perspective, namely what the governments can do on it. Do you think that at a micro level, say enterprises too have a certain amount of responsibility and can work towards a better world?
Indeed it is so. There is a whole range of things that companies and enterprises can do. The impacts of climate change are going to be very diverse, they are going to range from an increase in extreme climate events, to heat waves, drought, and also changes in precipitation pattern so the availability of natural resources like water is going to be definitely affected and it is going to impact on the working of the corporate sector. So companies need to start looking at how they need to adapt to these extreme events, for instance if there is an company that uses a large amount of water like a semiconductor fab; the water is not going to be available in the manner and to the magnitude they need in the future. So probably they need to think in terms of recycling of water, using processes that are less water intensive, etc. So these are adaptations measures that they can. And this will not only benefit the company but also go a long way in the fight against climate change.
What do you think about the eco-consciousness of the Indian corporate sector?
Well, it is growing, it is still not where it should be but I think the consciousness is growing. What is important is that there is desire to understand and to find out what they can do. But not all of them are not well informed on what the impact of climate changes are and how they should respond to it. I want to highlight the fact that the need to reduce the emission of green house gases (GHG) is also linked to energy supply because energy is going to be an issue that will affect countries, corporate entities, and even individual. The security of energy supply is certainly in question as far as the future is concerned. So to the extent that corporate sector can use energy more efficiently, perhaps to shift as much as possible to the use of renewable energy. There own security about the supply of energy will enhance. And while doing all that they will also be able to cut down on costs. They will have to carry out some due diligence, exactly define what they can do. The corporate sector in India needs to wake up to the challenge of climate change.
Right now, most of the green initiatives carried out by the corporate sector are clubbed under the CSR tag, what do you make of it?
You know, I think by and large a lot of corporate organizations treat CSR as a kind of a cosmetic effort. I don't think that is the right spirit. CSR should be mainstream, after all if a company has to succeed it also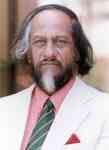 has to ensure that the society succeeds as well. And hence, for that to happen companies need to start looking at some of these initiatives as part of their overall operating strategy, not something that you do external to the enterprise. Hence, it is essential to integrate the two.
Due to your association with TERI, you have been privy to a lot of information about the various sectors of Indian industry; what do you think about the eco-consciousness of the IT industry vis-à-vis the rest of the sectors?
Some of the IT companies are indeed getting conscious of the fact, but I am not sure whether they are doing too much about it. Even if you look at some of the buildings that they construct, they have not really paid any attention by and large to energy efficient design, reducing energy in a way to make it sustainable in terms of supply opportunity in the future. And I am not too sure whether most of them are looking at even at the hardware and the software that they use being focused on energy efficiency. So I still think that there is a long way to go and I am not singling out the IT industry, every industry and enterprise needs to gear up for the challenge. Continue reading …