First things first; let's say a small prayer to whatever powers that be — up there and down under — that Lion didn't win any 'Oscars' at the 89th Academy Awards. The Dev Patel starrer had been nominated for 5 of them, namely, Best Picture, Best Supporting Actor, Best Supporting Actress, Best Music, Best Writing, and Best Cinematography. Thankfully it won none.
Had this movie won any awards at the Academy Awards, we would have been badgered with "Indian-ness", despite the fact that the movie is produced by a foreign studio, directed and helmed by a foreign crew and even the actors (except for a few tit-bits and the chief protagonist) are all foreigners.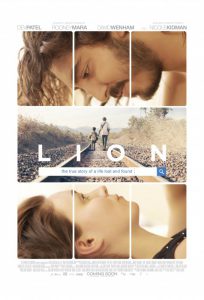 Yet, the foreign DNA of the film is not why I wish the film the failed, there's no pseudo nationalism at work. The reason, I harbour such feelings is, because undoubtedly Lion is a much below-par movie. The whole excitement around it has taken me by surprise. Built largely on the Slumdog Millionaire construct, Lion is purported to be a true-story. Sadly it is little else but a stereotypical production that lacks empathy or understanding on the topic or the people that it portrays.
Ostensibly, Lion is a tale of a 7-year-old boy named Saroo as he gets separated from his family and brother, travels some 1200 kms unknowingly across India before landing in Kolkata, and is finally adopted by a set of parents in Tasmania, Australia. After a gap of 25 years, Saroo Brierley traces back his past on Google Earth and reunites with his family. This is an epic journey that has its bearings in truth.
In real life, Saroo retraced his steps in the sleepy town of Khandwa in 2012, and his story was well covered by the media at large, from BBC to Times of India, everyone featured this extraordinary human tale of emotions and resolution.
Now, as any astute person, Saroo decided to cash on the new-found fame and he quickly penned a book on his own journey, 'A Long Way Home'. The book was published in 2013, and by 2016, Lion was released. It was all done in a jiffy, so as to speak.
While I have yet to read the book, I did watch the film and it really stuck me as another Schadenfreude Millionaire tale that had appeared on screen some years back. What essentially befuddles me is the manner in which India is still portrayed especially by international film-makers; a shoddy, poor, dirty, degraded place where crime and criminals abound.
Right from the moment go, Lion film indulges into this celebration of 'slum tourism', showcasing how the poor in India lead a tortured existence. Making full use of the innocence of Sunny Pawar (the child actor enacting Saroo), director Garth Davis weaves a tale that tugs the heart-strings. There's this single-mother managing multiple kids, cooking, feeding, and then breaking rocks at a nearby quarry. While, her kids don't go to school (even though education at elementary level in Indian villages is all but free), and they roam all over the place, stealing coal or sweeping trains, she is still a 'good mother' because she mouths inanities like "mera acchha baccha" (my good boy) when she talks to Saroo or rather Sheru. For some strange reason, she is shown in the film, with just 3 kids, while in reality, there were 4 of them, 3 brothers and a sister.
Now, when Saroo gets separated from his brother and lands up in Kolkata (Calcutta in olden times) after a long journey, he meets all kinds of shady people, cops that round up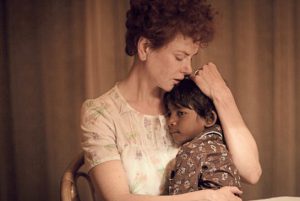 kids while smoking bidis, or a couple that offers Gold Spot while eyeing to sodomise the kid. Even the remand home is a sordid place, overflowing with kids, and here to, they are turned into victims of sexual abuse.
Make no mistake; I am in no way disputing the facts as they exist in real life. Indeed, we are much callous about the way we treat children especially from the weaker sections of the society. The police is much dehumanised and not equipped to deal with lost children, and yes, orphanages and remand homes are dens of vices, where kids are abused and victimised. There's just no denial of the truth, as it exists.
But, like the other side of any story, there are also the good elements; Indians, by nature, are generally inquisitive and helpful. With firm beliefs on gods and godliness, the temples, the gurudwaras, and the dargahs are places where scores and scores of poor are regularly fed. And over the years, thanks to numerous campaigns on social media, we have seen positive stories as well. Do recall that story of 5-year-old Prince Kumar Kashyap, who fell into a 55-foot-deep hole in 2006 and had the whole nation praying for his rescue by the army. After emerging out of the dark hollow bore well, Prince was an instant celebrity.
Thus, for every sordid and sorry tale, there's also one of hope and aspiration. Somehow, watching Lion, one does not get that feeling. It is a morbid, dreary saga populated by sinister and heartless souls. The only one good are the White ones, a good ol' couple from Tasmania, who decide to adopt desolate brown Indian kids even when they could have their own little white Australian ones. Apparently, in real life, Saroo acknowledges how he was helped by a handful of people, while his time in Kolkata, though the movie seems to avoid such instances all together except for a brief interlude of a young executive that takes Saroo to a police station or a bespectacled head of an orphanage that teaches "English mannerisms" to a select few kids, so that they can get adopted abroad.
And if this 'colored consciousness' was not dreary enough, we are exposed to a tale of a man (Saroo) who has lead much of his life in joyous existence, and is looking to undertake a degree in hotel management. And then suddenly, he is reminded of his past after coming across a 'Jalebi', which he was much fond of as a kid, before he was lost. The Jalebi (which to be fair was actually Emarti – but leave that) unleashes a trauma of memories of his mum and brother that keeps coming back into him like those Gladiator montages. Suddenly, after all these decades, the man decides to drop off everything, quit his job, junk his "good white" foster parents, and sit all day on the laptop Googling Earth. In between, he would step out for a beer or two, try to have sex with his 'white' girlfriend, who's much irritated, either for his obsession over the past or just the fact that he doesn't shave or shower, and acts like a Devdas from those Bollywood movies.
Lion keeps stretching on from here, as we are confronted with extreme close-shots of Dev Patel's evocative eyes, looking confused and chagrined. This goes on till the climax, when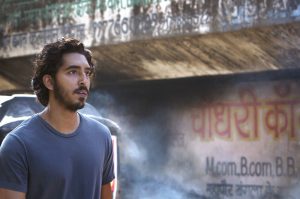 he finally returns and meets his good ol' biological brown mum. In between, he makes it a point to soothe the frayed nerves of his foster white mum, telling her again and again how very indebted and obliged he is, for the privileged life. As if, had he been adopted by a set of brown parents, his life would have been a mess.
In short, the movie is interminably long, boring, and lacks the touch of life that it so badly needed. Possibly, Lion is a great example of the fact that all great tales cannot be translated into celluloid as they are captured in paper.
To be fair, the kid Sunny Pawar has really done a fantastic job, and Dev Patel is not too bad either (in the Devdas avatar). But the rest of the set, could be replaced by anyone, I mean you could do away with Nicole Kidman or even replace the paedophilic cameo of Nawazuddin Siddiqui by any other. Lion is a work fashioned on the Slumdog factory-line. Thankfully, it has not won any Academy Awards so we will be spared all the hoopla and the hullabaloo.
All, I can do now is hope that someday in the future, the westerners will awake and see as just another set of humans differently coloured souls, and not some bunch of dirty, stupid, natives that keep digging noses and answering calls in a BPO. After all, they do have Deepika and Priyanka roaming around the fab parties in Cannes, or Hollywood wearing such chic dresses worth so much money, isn't it high-time the stereotype ended?
Yet, in my heart, I still do have a feeling that the White makers of the West will not give in so easily, they love to see India in the way it is not. For them, it will always be a land of mystics, snake charmers and elephants, so what if we are able to launch 100 satellites in a single mission or if our billionaires build the costliest homes in the world.