"Come on, of course you have to do it. Everyone who comes to Bhutan has to do it. It is like almost mandatory," is basically how Dawa Penjor, the CEO of Bhutan Media Foundation, reacted when I told him that I was giving Tiger's Nest a miss, especially as 'I hate trekking'. There was a look of incredulity on him, like I was planning to not see Eiffel on the visit to Paris, or miss the great Pyramids while visiting Egypt. Similarly, I guess, missing Taktsang (Tiger's Nest) is just not an option in Bhutan.
Thankfully, Dawa moved from incredulity to encouragement, and went on to soothe my frayed nerves that had started jingling at the very prospect of a climb up the mountainous path. "Don't worry; you will surely be able to do it. After all even 70 year-olds are known to have climbed up the hill, pretty easily," was his winning argument. It was only later that I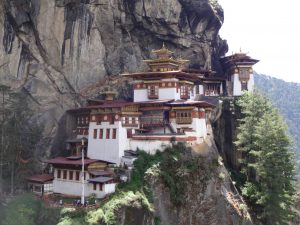 realised, that "70 year-old" was more like a placebo for hassled nerves.
Nonetheless, I took the bait, and then our common friend Sonam Gyambo tinkered with my itinerary to fit in the one-day trek in the two days that I was left with in Bhutan. A phone call to his friend in Kicchu Monastery — whom he referred to as a healthy monk, and then we were all set for a climb up the hill. From skipping Taktsang to setting out to visit it, I had made a big leap of faith in a matter of few hours.
My reservations against Tiger's Nest were not without reasons. You see, I am certainly not in the best of physical frames. The last time I had stood on a weighing scale, it groaned itself to some 3 digit number. Secondly, I am certainly not the trekking types; I more like the loaf-wander-drifter types. I loathe the very concept of those trekkers whose only aim is to quickly reach a point, take some selfies, preen and quickly descend. I am more likely to contemplate on a silly lily, or admire an ant-hill. I hate the rush in life, and I detest it more so on those scenic beautiful mountains. After all, "what is this life full of care, we have no time to stand and stare", and I love to stand and stare without a rhyme or a reason.
And then, when I saw the pictures of Tiger's Nest from a trek-able purview, I knew it would be stretching myself to an impossible scale. The last trek, I had undertaken was more than a decade back and here was a monastery that challenged you from an edge of a cliff, 3000 metres above sea-level. Nah let the tiger (or tigress) rest peacefully there. I had no intent to disturb it at all.
Anyways, on my last day in Bhutan, I was down there in the Paro Valley, with the healthy-monk to guide me to the top, and my better-half and two sons to inspire me to the there. On the first glimpse of monastery, as a tiny little white dot stuck afar into the green hill that stood rather tall, I knew it would not be an easy task. And how right was I.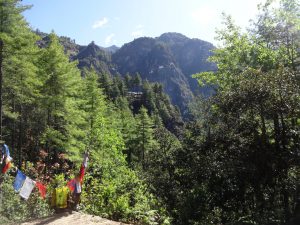 We were there at the base by around 7.30 am, after parking the car, we started on the route. It was a dusty hilly road, and immediately, it started up. At the start you could hear the horses grunting, possibly doing some horsey pranayam in preparation for the taxing climb ahead. For a moment, I was much tempted to load myself on a horse, but our monky guide was firm, and dissuaded me from it. Believe me; very shortly I would be cursing him for it.
Just about 30 minutes into the climb, my pace had dropped considerably and I was huffing and puffing badly. To save myself from embarrassment and also to not drag the others back, I requested the lot to move ahead, promising them that I would catch up soon. The kids were unaffected by the incline and bounded on their way to the top with the monk and another friend. Meanwhile, the better half was perturbed as well, but she was doing better than me. I asked her to move ahead as well, so that I will have some inspiration to move on. She reluctantly agreed but even that didn't seem to work.
It must have been an hour and as I dragged myself grudgingly up the road, my condition seemed to get progressively worse. I would walk for 5 minutes and then for the next 15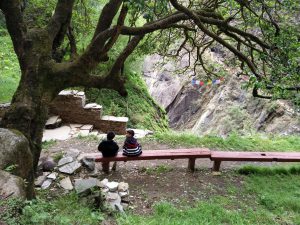 minutes, I would be catching up on my breath. In between, there would be all those horses with those relaxed riders would pass by, and I would grunt in dismay. Why did I ever listen to that monk, is what I grumbled. As the sun gained strength as it made its way across the sky, the going seemed to go tougher.
But then, I was not alone. There were a lot many others from all across the world, climbing up the path to the monastery. The fitter ones would move ahead and pass by, but the not-so fit ones (like me) were moving in a sort of pack. We all were struggling, and the struggle seemed to make us aware of each other.
Right along with me, was a gang of people from Thailand. Then there was this young lad from South Korea. There was this really senior but determined lady from Nice, France, a middle-aged couple from the US as well. These and I were more or less hauling ourselves up the narrow path. BTW, there were Indians aplenty ranging from young college types, to senior citizens. In fact, I met so many from Mumbai itself, that I was surprised by the sheer coincidence.
In between, I could view the familiar visage of my better-half up ahead, but then the distance between us seemed to be growing all the time. Anyways, as I proceeded on the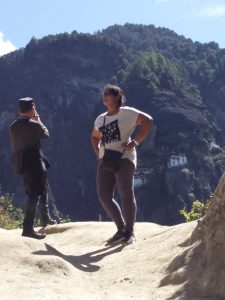 incline, my condition progressed to a decline. Around 2 hours into the climb, I started to lose confidence in my ability. Tiger's Nest seemed like am accursed place, and I was cursing all those that had spoken me into the climb. While, I was all contemplative about the climb, things started to change. The biggest change was the help that seemed to pour in from the people. First the Thailand group, kind of adopted me, they would talk to me, make me listen to Buddhist chants to help me on. Then the Korean lad would regularly coerce me to drink water from his bottle. In between, a Thai man also made me sniff at some balm, telling me that it would help.
If that was not enough. There were these three young ladies from India. One of them on seeing me stopped, and told me that she was a pranic healer and could help me out by cleansing the lungs. "All you have to do is believe in me," was her sole condition. Considering that, I had nothing to lose, I readily submitted myself. She then started meditating and with her two outstretched palms seemed to drawing some cosmic energy and passing it out to me. I had to keep my palms open, eyes closed and breathe deeply. I don't really know the science of such healing, and I am not sure either how much of my lungs were actually cleansed, but I did feel much better after that encounter.
Sadly, even the cleansing could not hold out much longer. Barely, some 30 minutes later, my lungs were yet again gasping for air desperately. I vividly recall, sending out prayers to all gods and deities I could recall, from reciting a few mantras to remembering the entire Hanuman Chalisa. Yet, there was no bright light that broke up from the sky to lift me in the air and transport me pronto to the top. Then, I remembered that there could be a disconnect here, you know like "loss in translation", after all I was in a Buddhist Bhutan, climbing a hill to a Buddhist monastery, now how could and why would the Hindu gods come to aid here? If indeed things are not that hunky-dory between the gods of different religion, and they are competing for dominance, why in the world they help you gain brownie points with the a god from different religion? Guess, there must have been some sort of shortage of O2; hence my thinking was going all fluffy and funny.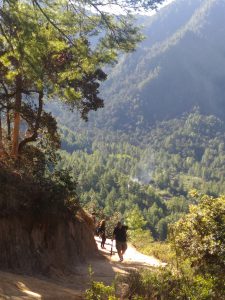 Nonetheless in consonance with my new-dawned realisation, I tweaked my prayers and this time directly addressed them to Guru Rinpoche, the very saint who had apparently landed on the hill-top on the back of a flying tigress. The great guru, also known as the Second Buddha, was originally a monk from India, Guru Padmasambhava, hailing from the Swat Valley (in current day Afghanistan), the place where the Bamiyan Buddhas existed before the destruction or even the state of Odisha by some references. Now Guru Padmasambhava was a very very interesting and intriguing persona. Firstly, he had migrated to Tibet at the behest of the local king Trisong Detsen, to preach Buddhism (Vajrayana — or Tantric Buddhism) in the 8th Century AD. Next, there was some conflict in Tibet due to court intrigues, and Guru Padmasambhava now left the place, apparently on a back of flying tigress and landed above the Paro Valley. It is here at Taktsang that he supposedly meditated for 3 years, 3 months, 3 days and then set out to spread the religion out to the masses.
There is yet another story that is associated with Guru Padmasambhava. Considering that the guru was a master of the tantric arts, he subdued a demon(s) that plagued the Himalayan region. There are some 13 monasteries that have been erected (like the one in Taktsang) that are like pins that nail down the demon across the landscape of Tibet, Nepal and Bhutan.  Nonetheless, Taktsang and Kicchu monastery in Paro are among the oldest ones in Bhutan. So, contemplating upon the all-powerful and magnificent Guru Padmasambhava, I directed my request for help to him. Considering the common India connect I had with the Guru, I was sure that my prayer won't be in vain.  And lo and behold, my prayers were answered.
While, we were having this very interesting conversation, the monks were cutting the through the unbeaten path, taking shortcuts which only they'd know. I was merely following them up like some lamb. Before long, I found myself at the half-way cafeteria, to the eager surprise of my worried better-half and the half-exhausted kids.
Surprisingly though, after tagging along with the guiding monks, I did not feel exhausted in the last leg. In fact, after a quick tea and a few biscuits, I was all set for the onward journey to the main temple.
A little ahead of the cafeteria, there is a half-way mark, a sort of a gallery, which affords a clear view of the monastery. At this point you can take pictures, and can return back, in case you are unable to carry on. This is a point, where a quite many do turn back. And it was a question that confronted me too – should I proceed or return. The main monastery from here was some 700 stairs away, of which 400 were down (wow) and 300 were up (oww). The monastery was close, but yet it was much away. But, my encounter with the monks seemed to have steeled me mentally, and I was quite eager for the last leg of journey. Don't really know if from here the journey to the temple is actually easier, but it did seem to my cheerful countenance. I mean, it was a stark change just an hour back I was cursing and cribbing, and here I was all happy and agog. Guess, it is all a matter of the mind.
Well, in due course of time, we did reach the temple. The last stretch of stairs almost seemed murderous. Entering the complex, I could feel such a rush of relief and achievement, quite similar to what Hercules must have felt when he accomplished one of the labours. We collected the tickets, deposited our bags, and then bam, I was hit by a train (metaphorically of course). Apparently, I could not enter the monastery, as I was not appropriately dressed.
The temple guards took a lot at me, more importantly at my hairy legs that were visible from the green shorts, and declared that they did not want my legs to despoil the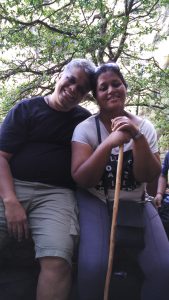 monastery. For a few moments I was aghast, I mean, I had surely not dragged myself here and not be able to visit the monastery. There was nothing that could come between me and the monastery now, even if it involved murder of a man, so I could pull out his pants.
Fortunately, it did not go that end, and there was a printed trek pant of some teenager that was lying around in the security guard's cabin. He looked at the slender pant in his hand and the thunder in my thighs and was pretty sure that the never the twain could meet. But then, in that desperate situation, I would have managed to squeeze myself into the trek-pant of my 5-year old son. So, I eagerly snatched the pant from his hand, and rushed into a little corner, where I could squeeze into it. Well, getting into that pant was no easier than climbing up the hill, but I did manage it somehow. The pant refused to climb any further than my knees, but thankfully it just ended a few centimetres above where my shorts ended. So, I was twaddling along like  some Donald the Duck. But so long as the guards would allow me, that was alright.
There was a little bit of tired climb required more to enter the complex. The complex inside is magnificent, with the very colourful thangka Paintings adorning the walls. One of the cave, where Guru Rinpoche is supposed to have meditated is closed and opens once a year. The rest of the place is quiet like any other monastery, huge statues and paintings, with an elaborate altar on which a multitude of butter-lamps and scores of incense sticks burn, creating other-worldly patterns in scented smoke and flickering light. There are the many manifestations of Guru Padmasambhava and Buddha, numerous sacred idols and brilliant paintings. The caves are also well decorated in bright red, blue and golden hues.
At the top, there is a viewing balcony, from where you can look down and gloat. The cafeteria looks far on the adjacent hill, meanwhile, the base camp on ground looks like a tiny dot, far far away. It just adds to the sense of achievement one has at making the climb. There is a big gong here, which can be sounded with a hammer, quite like the way we ring the bell in the temple.
There are 4 temples here, and it almost takes 30 odd minutes, when you are ready to make your way back. There is an immense sense of happiness that envelopes you like a Gho, the traditional Bhutanese dress. Taktsang makes you believe in human endeavour, I mean,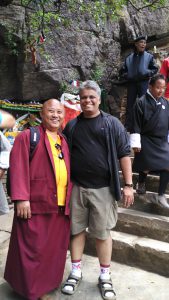 building a monastery is itself a very big deal at such a height, but doing it to so beautifully and aesthetically is even harder beyond imagination. I was wondering, how the monks would have carted the material over hundreds of trips over the very many years, creating the place brick by brick, plank by plank.
And then, the monastery has not been built once, but quite a few times over. Over the very many years it has been in existence, there have been cases of accidental destruction due to fire. In fact, in 1998, the whole monastery was burnt down, a complete destruction. There is a story that it was caused by a women who was burning her field or something, before the fire got out of hand. The king (HE Jigme Sigyme Wangchuk) then commanded the entire village to rebuild the monastery as a sort of punishment. While, I am not sure about the real story here, but yet it has been rebuilt magnificently in 2005.  And so, there is much awareness and wariness at the complex, especially when it comes to fire. I could see the very many guards looking around intently, in case some stupid tourist set up a disaster.
So, finally, we wrapped up our visit. Returned back the trek-pant with much gratitude to the temple guard. Took a few more celebratory pics. My kids were pretty tired by now, and so were we. But considering that getting down would be infinitely easier that going up, thanks to mother gravity, I was not too concerned. But then, as luck would have it, I couldn't have been more wrong about it.
The first hurdle on our way down were the 700 stairs again, of which 300 were down (wow) and 400 were up (oww). Crossing that was an enormous task, because during the first time, you were excited and agog, but this time there was just tiredness and exhaustion. Nonetheless, while making our way through the stairs, we (as in me and the Wife) had a funny encounter. So, along us, there was this elderly Korean lady, who was returning with us. She was much tired, perturbed and a bit irritated. She had a Bhutanese guide with her, who was extremely polite and quite encouraging. Every time, the lady would be tired and ask, how much more, the guide would state, "Oh just a few minutes more. We are there". On the return journey, the guide yet again offered her solace saying that, "just a few minutes more for the stairs to end". Considering that, the lady after visiting the temple was quite aware that those minutes actually meant a couple of hour, she really lost it and blurted out loud. "What is this few minutes, few minutes? You have been saying this for the past few hours. Why don't you just tie me to an arrow and shoot me down towards the ground," she said, pointing towards the base camp from where we all had started. We could somehow relate to this exasperation and hence burst out laughing.
A note on the "few minutes" business. As I said earlier, one tends to form a bond with all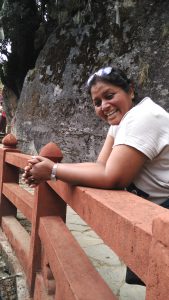 fellow travellers, even without trying to do so. It is a kind of community thing. So whenever an exhausted or exasperated soul asks, "how much more?" the most common answer that you will receive is, "just a little" or "you are almost there". This is like an encouraging mantra that everyone keeps sharing. And the few minutes told to the elderly lady were a part of that series itself.
Nonetheless, as we continued our descent there was a discernible change in the weather. Within a matter of 15 odd minutes, the sun was blotted out and grey cloud suddenly crowded the hilltop. The amazing thing about the hills is that things can change amazingly fast. And man it did. From a sunny countenance, the character of the hill had changed into a stormy one, quite like those avatars of Guru Rinpoche.
By the time, we had crossed the half-way at the cafeteria, the drizzle began. Keeping in mind, how precarious things can be in the hills, we agreed to make a dash for the bottom. The kids, just like during the incline, had moved ahead with the monk, so we were technically on our own on the hill. Somehow, the rain gods watching from above were not too impressed by our resolve, and decided to wash it away first with water and then pelt us with heavy hail.
Fortunately, we were carrying an umbrella with us as a walking stick, and it did come quite handy. It did save us from quite a few stings from the raining hail from heavens. From a spiritual purview, rains in such pious hills are considered as a sort of blessing. Considering the manner in which it started pouring, I believe the gods above were indeed feeling quite gung-ho about the fact that I had made it to the top and were showering their blessings on me. The problem was that it was just a tad too much.
As me and the wife struggled our way down, the dusty road turned into a slippery one, and both of us slipped a couple of times. The result was that, we had to be extremely careful with each and every step we took. So, the descent, we thought would be a breeze was anything but it. Our knees were hurting from the uneven road. Drenched and exhausted, we were bewildered by the sudden transition. Suddenly, the return started seeming even longer than the ascend. This was certainly not part of the bargain. So, one can imagine the joyous relief we had as we entered the plains, signalling the end of the trek.
Was there a feeling of divinity and spirituality as we made our way back? Frankly, we were just too tired, dirty, shivering in cold, to be able to feel any of that.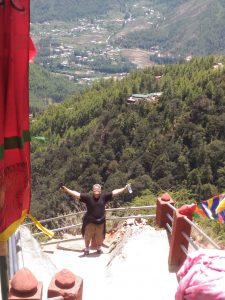 But yes, there were two feelings that stood out. One was sheer sense of achievement, a pride at being able to do something that really challenged you to the core. And secondly, one felt wonder and awe at the people who not only conceived the way Taktsang was, but went ahead and created it. It is truly a wonder that is perched on a hill-top, but more importantly it is a serene and aesthetically beautiful place that leaves a mark on your mind. It kind of changes you a bit, in perspective and in life. The wide spectrum of experience that you have when you climb up and down is truly remarkable, coming across strangers who are ready to help, to a benign deity who kind of overlooks at you and aids you.
Indeed, as Dawa said, a trip to Taktsang is a must for anyone traveling to Bhutan. The only thing that I can add is that somehow one trip is not sufficient. I am hoping that I will be back on the hill soon. And this time, I won't be huffing, puffing and cursing. It would be a very different me there. Hope Guru Rinpoche is listening to that one…