In the aftermath of the heinous Delhi gang-rape case and the Mumbai gang-rape incident, numerous people were out on the roads holding candles, placards and what not. The media, as it is nature, went into frenzy; solemn anchors asked dire and direct questions. Panels were formed, experts were asked, politicians expressed outrage, protestors ranted loud. Newspapers and magazines too joined the  frenzy, with relentless coverage, sad statistics, and unending stream of visual infographics that drove home the point firm and hard: India is being raped and brutalised; left, right and centre.
Rape, yet again, was the hot potato, right from the panel studios to the living room. Rapes were being reported with amazing regularity from all over the country, foreigners, Indians, no one was spared. Numbers that came out only underscored the point. Here are a few statistics that will scare you: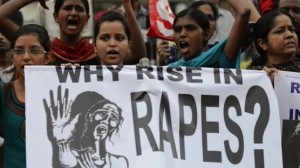 24,206 rape cases were registered in India in 2011, according to NCRB.

A woman is raped every 18 hours or molested every 14 hours in the Capital

Cases of rape went up by 873% in the last decade. Shockingly, between 2007 and 2011, rape incidents increased by 9.7%, three times faster than all other crimes put together

Nearly 68,000 rape cases were registered across the country during 2009-11 but only 16,000 rapists were sentenced to prison

NCRB data shows there were 1,22,292 cases of molestation during 2009-11
The statistics don't stop, like an endless stream of data they just keep going on. But what essentially can be summed up is that women in India are never safe, with one being raped every few minutes in some part or the other. The figure could be very high, as it is generally assumed that a majority of cases are never reported out of fear or shame.
The moot question is, how did the affairs come to this end so suddenly? Were we always like this, or have we become so in the past few years? Were the Indian males sleazy, opportunistic bastards all this while or have they become one suddenly? Continue reading …