"Hello. That is Shashwat Chaturvedi, right?" a sombre relaxed voice on the other end of the telephone quipped. It was 9 in the morning, and after an arduous late-night at work that stretched on till morning, I would have cared less if it was Lord Shiva on the other side. Groggily, I mumbled an affirmative. "Good. I was just updating my telephone diary. You are a journalist, right," came another question. This time, I replied in the affirmative and also asked for the antecedents of the caller. "Good. This is Anant Pai." Even though half asleep, I was jolted, wondering to myself whether it was actually a call or my mind was wandering in some hazy dreamland. The silence at my end prompted the soft voice, "Anant Pai, here. Uncle Pai as you might know." The next few minutes, I was gushing over the phone, speaking dreamily to Uncle Pai. The rest of the day, I just floated around on a cushion of air; after all it is not every day that you get a call from Uncle Pai.
Like that day, when I was shocked and stirred up by his call, an innocuous post on FB stating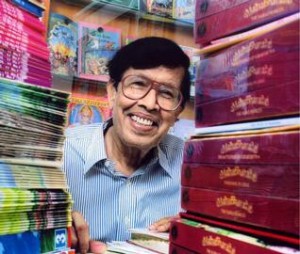 "RIP Uncle Pai" again shook me up but this time it was shattering. Like millions of other Indian kids, I too had grown up on a staple diet of Amar Chitra Kathas and Tinkles, and for us Uncle Pai, the creator of these magazines, was more like Santa Claus, except that he didn't look one and secondly, he told stories and not ordinary stories but those that connected us to our forefathers that walked this very land, 50, 100, 200 and 1000s of years back in history. Most of us, still treasure those original ACKs in the hope of sharing it with the next generation. Thus in a way, ACK had become a family heirloom, passed one generation to the next.
Fortunately, I had the good luck of meeting and interacting with Uncle Pai a couple of times and in each of these meetings, I'd sit in front of him as if confronting some big sage. I would sip from the ever flowing fountain of knowledge; just keep hearing him out, asking him a thing or two and then just paying attention to what he said. When, I was young, I had heard that some rare people were blessed by goddess Saraswati. For me, he was the living embodiment of that goddess. He knew everything under the sun and more importantly, he knew to tell it in a way it stayed with you. For instance, on hearing my name, he told me the real meaning of the term Shashwat, and to drive the point home, he also recited some shlokas to the effect. Or when I spoke about the one Sanskrit shloka that always stayed in my mind, namely the title track of Bharat Ek Khoj, Uncle Pai immediately recited the Nasadiya Sukta (it was from him that I came to know the name) from the Rig Veda, translated it for me and then told me that it was he who had suggested the same to Shyam Benegal (the director of Bharat Ek Khoj) as title track for the serial. Then once the shlokas were done, he would easily sing a Bengali tune, recite Kabir or quote Shakespeare.
There was nothing under the sun that Uncle Pai did not know about; he was a veritable encyclopedia on everything. But the best thing about him, was the manner he could storise everything, turn it into a tale, making it ever so palatable for the young mind. He was a story-teller by par, and he had his mantra. To be a good children's writer, he used to say, one must know child psychology or what the child loves. One must look from the child's point of view. Uncle Pai had a simple thumb rule for them, when "children are in a hurry to go to a playground after school, at that time stop them and read your story. If your story holds enough interest for the child and if he doesn't run away to the playground- you have succeeded in becoming a good writer." Continue reading …