Received an innocuous mail from TCS today, it was regarding a press meet at their heritage building HQ in Mumbai with the CEO and MD. All seemed like yore till my eyes actually read the name N Chandrasekaran instead of the usual S Ramadorai. In fact, the mind is so accustomed to see his name, that it took a moment to realise that the change of guard that had been in the offing, is finally at hand.
Come tomorrow (October 6), the curtains will be down for one of the most illustrious CEOs of India, Subramaniam Ramadorai or S. Ramadorai as he is more universally known. The top-honcho at TCS, the $6 billion IT behemoth, will hand over the baton to his successor N Chandrasekaran (Chandra, is his appellate) and take a back seat as the vice-chairman. The handover is necessitated by the Tata Rule book that states that no individual can continue as a CEO beyond the age of 65. There have been exceptions in the past, but Rama has chosen to follow the rule-book and not take the easy way out. In fact this is one of the most defining traits of Rama as an individual and as a CEO; he never flinches to take a long arduous path if he believes it to be the right one. With a grit that only a few can match up with, Rama will keep working at the goal tirelessly, day in and day out. And yet, except for the few around him not many would realise that this calm serene sexatarian is a workaholic, who even when is calm and serene on the out, is in fact working at a frenzied pace within. Looks can be deceptive, is a phrase that would have been coined for Rama, if it wasn't before.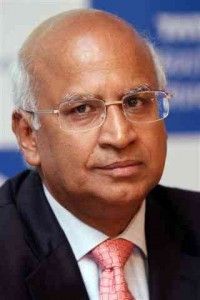 It was much this grit and determination that won him the CEO cap at TCS, when the doyen of Indian IT, FC Kohli retired back in 1996. Back then, not many knew who exactly Ramadorai was or would have given him much notice, considering the fact that back then TCS was a private company and fairly secretive about its revenues and spread. In those days, for Indians IT meant Infosys or Wipro, or even HCL, but certainly not TCS. And yet, Rama who had joined TCS as a junior engineer in 1972 was destined and determined to change that. He rose through the ranks and eventually was charged with setting up TCS' operations in the United States in 1979 in New York City, where he got an opportunity to prove his mettle.
Hailing from Nagpur, Rama grew up in Delhi where his father worked with the Indian audits and accounts service department. After studying physics at the University of Delhi, he headed south to Bangalore to study communication technology at the prestigious Indian Institute of Science. Continue reading …