To be honest, there can hardly be a bigger high on this planet than winning the Olympic Medal. Competing against the very best athletes in the world, it takes a hell lot more from an individual to make it to the podium. In that regards, the dramatic win of a 23-year-old Indian lady from Rohtak is nothing short of spectacular. It was a fabulous treat to have a charged-up Sakshi Malik taken on Kyrgyzstan's Aisuluu Tynybekova in a dramatic finish in the 58kg freestyle wrestling category, winning the bout and finally opening India's medal account.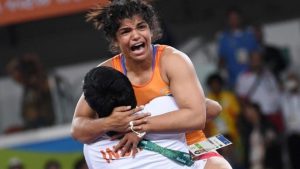 The excitement and buzz that the win generated is fairly understandable, the #SakshiMalik hastag was trending on Twitter, you had all sorts of celebs that were toasting the young lady, right from PM Modi to our Olympic Ambassador Salman Khan (ohh sorry, @BeingSalmanKhan hasn't found the time yet to congratulate Sakshi, possibly will, after his promotions of Freaky Ali are over). I even heard Sakshi's mother on radio exploding into how the "bharat ki beti" had brought honour for the nation and Sakshi's brother was like, this is the best "rakshabandhan gift", et al.
From here on, the tale as it will unfold is fairly straight. As soon as Sakshi lands in India, there will be a whole lot of jubilation and celebration, she will ride out from the airport to shower of rose-petals, will be hosted by the PM and CM, granted land parcels, would be featured in adverts, and there might even be a film made on her struggle. And then, we also have another medal winner in PV Sindhu, who by the virtue of getting a gold/silver would be as joyously feted, in almost a templatised approach.
The trouble is that in all this euphoria, what will be forgotten is that it took a good fortnight and more for India to win a medal in an event, where you have 207 countries participating with over 11000 athletes in 306 events and 28 sports. A nation that aspires to be a global power; will shortly be the most populous country on the face of the world, cannot even manage to reach the finals of most events, let alone win a medal. If one looks at the performance of the Indian athletes, it will be a very long-list "Did Not Qualify". The fact, that a Dipa Karmakar had to attempt a death-defying Produnova move to reach the 4th position, speaks volumes of how ill-equipped Indian athletes are. And yet, every 4 years, India continues to send a bigger and more bigger sports contingent to these Olympics. This year, in fact, India had the biggest contingent of all nations. And yet, where do we stand on the medals tally, at 71 right now, with even countries like Kenya, Jamaica, Indonesia and even Mongolia ranked much higher (let's not even take the name of our neighbour, whose name starts with a C). Continue reading …