It was a moment of euphoria when the whole of India, and a significant little bit of the US, were looking with expectations at Prime Minister Narendra Modi's US visit, especially his address at the packed hall of Madison Square Gardens. The limelight was supposed to be on Modi and what he is going to speak. Top-billed as a mega event, almost everyone had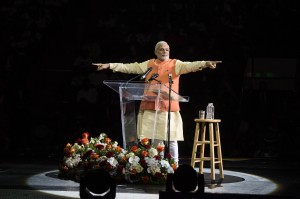 landed up for the glitzy event, all agog to hear the man speak. This was supposed to his moment through and through.
But just like Jayalalitha's conviction had overshadowed his UNGA address, there was another event which almost did the same to the Madison Square address. Just an hour before Modi took to stage another news broke out, that veteran editor Rajdeep Sardesai had been assaulted by a mob at the venue.
The script was so jarringly repetitive, saffron fanatics hitting out at people who 'disagree', trying to muffle out the voices. The sad part was that this was happening in America. As, you could hear Rajdeep say, "Something and some people don't change".
Not surprisingly, the news was picked up by many, people were tweeting, retweeting and belabouring the conduct of the so-called Modi Bhakts, and there wanton acts. There were aspersions being thrown of how sane and sensible voices are being progressively silenced under the new regime. It was indeed a shameful event, something we all should be ashamed off.
Suddenly Rajdeep, who was just another media star in a star-studded affair in NY, was now trending and popular. By a quirk of fate, he had stolen the limelight from Àrnab Goswami, Barkha Dutt and Bhupendra Choubey, all of who were diligently trying to cover the event and raise the stakes. By their wanton act the Modi Bhakts had given the Modi baiters a good chance to draw the attention away.
But then, as the dust settled on the matter, and the time progressed, conflicting stories started to emerge. You know there, were these small mobile clips, where Rajdeep could be seen exchanging blows (rather trying to) than just receiving them in Buddhic acceptance. As time passed, there were more clips and more testimonials that hinted at a bigger story that what one got at first measure. Continue reading …