Holidays hold a special place in an Indian's life, especially the corporate worker. In addition to the CLs, PLs, and the MLs, Indians are also thankful to the many gods and great men who decided to take birth, marry or die on this land; resulting in a fairly decent number of extr'olidays. And then, when it is not the gods, the politicians are always pliant. So, we have a good set of forced holidays brought about by different outfits under the garb of Bharat Bandh et al.
But Wednesday, 30th March falls under a very special category. It is neither a festival, nor any great men (women too) were born, died or anything on this day and finally no political outfit has declared it as Bandh-day. Yet, across the length and breadth of this nation, work will come to a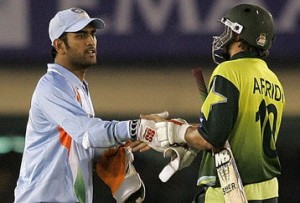 standstill this day, precisely from 2.30 pm onwards, as the Indian cricket team face off with its not-so friendly neighborhood rivals Pakistan. As the game gets going, millions of Indians will be glued to the television screen, cheering, screaming, ranting and raving, as every ball is pitched up on the 22-yard strip.
The match has put companies in India on a dicey wicket. Since, the fiscal-year closing is looming large, there is just too much of stuff that needs be done. On the other hand, it is only but natural that employees will be following the match ball per ball.
To resolve this dilemma, companies across the board have adopted different measures and means, while some have given a day off, the others are putting up screens and offering pizza to all the employees at the workplace itself. Companies like Reliance Infrastructure have given a day off, while others like Axis Bank, Bharti Axa General Insurance, Future Media, Cadbury India and Future Bazaar will work half day. Continue reading …