"Why should there be any purpose at all, can you not enjoy the canvases for what they are, rather than what they represent," said a rather chaffed looking Gajanan Kabade. I had decided to pay a visit to his exhibition at the prestigious Jehangir Art Gallery. His show, titled Tapestry, was a representation of artworks that were all dabbed in myriad hues. The unique thing about Gajanan's work is his use of the ever-common, ever-ubiquitous cello tape. By using overlapping tapes, and paints, he creates a pattern that is much pleasant to the eye, even though it represents nothing. And that was precisely what he wanted to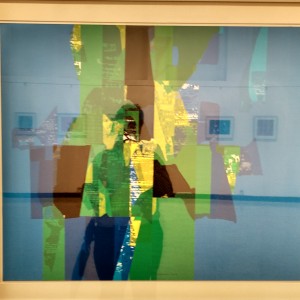 convey to me, when I asked him to explain the "logic", the "meaning", of his artworks. "Why can't you accept and enjoy the abstract for what they are, without trying to place them in a context?" Gaja asked me, though it seemed more like an advice or a complain.
Honestly, this was the second time in my life I had come across such a scenario, where my creative mind struggled to comprehend the abstract. It was some 15 years ago, when one evening a rather generous editor of Free Press Journal, called into his cabin a rookie reporter with long tresses and passed on him an invite to an exhibition of paintings by the celebrated Jehangir Sabavala at the Jehangir Art Gallery. "It will be very interesting for you boy," said Gonsalves gesticulating with his hand on which was adorned a tribal band of various hues. And so, thinking it to be an arty soirée where costly wine will flow along with crusty croissants, I merrily landed at the Gallery. This was to be my big debut in the esoteric world of art. My brief encounter with the octogenarian artist did not really turn out to be a charm, as the moustachioed man possibly expected a more knowledgeable bloke from FPJ, not a greenhorn like me. Nonetheless, I did not let such incongruities distract me from the task at hand, and after badgering the artist with some terribly mundane queries, in response to which he merely muffled a grumble, I got to the task at hand. Also the fact that there were no waiters carrying platters of veggie snacks, nor was there the associated tingle of half-filled glasses, seemed to nudge to do something worthwhile, something which not many journalists are not known to do.
I looked along the room, it was full of those high-society peoples, you know ladies in clinging shiny chiffons, and bearded men in silk kurtas. There was much chatter all around, and the grandfatherly artist moved in the Gallery like a matador who had just killed a bull. Now and then you could discern a sudden explosion of an orgasmic sigh that went like "ohhhhhhh…" It would invariably be followed by silence and then there would be a few more sighs and then silence again. Steadily, the whole room was filled with such orgasmating creatures, especially the female types. Was frankly bewildered at such sighs, being a young lad with much interest in the birds and bees, these "oohhhs" and "ahhhhs" were pretty distracting. Continue reading …