Till about a fortnight back, BJP as a party was in complete disarray. Beset by bickering and squabbles involving almost all its leaders, from Joshi to Modi to Gadkari to Advani, the party seemed like a Titanic destined to sink in the choppy 2014 waters. With so much politics in-house, BJP was all on a course to lose whatever little moral high-ground that it had come to occupy in the past 8-odd years of UPA rule. The prognosis was dour; namely, the lotus was wilting, and wilting much fast.
But just about when the whole of nation was getting sick and tired of the Joshi posters and the Modi jibes; something much bigger happened that took the whole focus away. Quite like Lord Krishna who supplied unending yards of chiffon sari to save Draupadi's honour, destiny intervened for BJP with the announcement of the Presidential Elections. To be fair, a president in India is merely a titular head, and barring a few exceptions most individuals have been p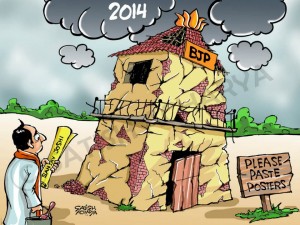 eople without a head (so as to say). Essentially, a president's job in our socialist-secular-democratic-republic is to serenade on the Rajpath surrounded by a bevy of brawny surd bodyguards dressed in red and riding horses on the 26th of Jan, and secondly live in a very ostentatious palace and play host to foreign dignitaries. In fact, a year or so back, there was a contest that had been announced for the 'world's best job', namely, that of a caretaker of a scenic coral island. Somehow, I think, being president of India is somewhat similar to that, an eternal holiday for 5 years, except that you have to sign a few bills forwarded by the cabinet now and then.
Coming back to the current presidential frenzy. Right from the start, the presidential race was set to be much exciting from the word go. Thanks to her numerous foreign jaunts and her lack-lustre performance otherwise, Pratibha Patil had ensured that she and her brood would be vacating the palace on Raisina Hills, with no even an atom of a chance of re-election. This time round, UPA, led by Congress also did not have all the numbers to enforce its choice and were largely dependent on like-minded (rhymes with money-minded) parties to help them build a consensus. On the other hand, while UPA was weak, NDA led by BJP was even weaker when it came to its votive power, and had little or no choice but to merely nod in agreement, under the sham of consensus.
There was little doubt that much like last time, Congress would yet again be able to install its man at Rastrapati Bhavan, who will oversee the important 2014 elections. Basically, it was Sonia Gandhi's game to lose. And much surprisingly she did! Continue reading …