1979 was a very weird year for Bollywood. In the sense, there was no real defining trend for movies succeeding those days. Thus you had extremely divergent genre of films like the ghoulish Jaani Dushman, romantic Sargam, picturesque Noorie, zesty Mr. Natwarlal, Lahu Ke Do Rang (my dad was a sound recordist in this one), were raking in the moolah at the BO. No one really knew what the 'public' wanted. There was no real formula for success.
Among all these films, a social-comedy that had an average-looking-nobody-sort Amol Palekar in the lead too was released. Directed by Hrushikesh Mukherjee, this film was the perfect amalgamation of talent, great script, punchy dialogues, amazing acting by the cast, right from Palekar to Utpal Dutt to even the small Kesto cameo. The film Gol Maal relied heavily on subtleness, it wasn't Chaplinisque one bit, but like a literary adaptation. Nothing was absurd, loud or over the top in it. Take for instance, a scene in the movie in which Ramprasad makes fun of Bade Babu, who is constantly plucking hair from his nose, stating that how if only the lands of the country could be as fertile as his nose, cut the crop in the evening and a new one awaits in the morn. Babu laughs at the pun, before stopping and asking, "are you making fun of me?" This was the real essence of Gol Maal; it was making fun of a lot of people and archaic values, but in a manner in which wasn't offensive to anyone.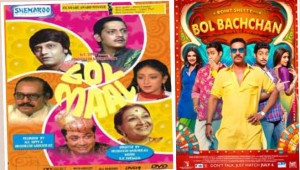 Honestly, I don't really know whether the film made even a crore at the BO in those days, or was a hit in those times. But what I do know is that time has indeed proven that when a film is made with good intentions and robust work, it lasts fairly long. Thus, even today, when the film runs on the myriad channels for the nth time, I still stop and enjoy the movie like I did many many years back.
Cut to 33 years later, a film loosely based on Gol Maal just released. And it stands for everything that the original stood for not. Thus, you have flashy sets, over the top acting, bawdiness, reigning superstars, exploding cars, and what not. Just the perfect masala to make a 100-crore film. In the next few days we will come to know that Bol Bachchan has indeed made a 100-crores (underlining yet again that there is no paucity of money-spending morons in India), the makers will throw a flashy party on the success, the actors will further increase the fees, some reviewers will pan it and some will praise it to the skies, and even a sequel to the same will be planned. In all this melee for success and BO records, the real essence of movie will be lost and colluded.
But then, some three decades later, when my kids are all grown up and chance upon a copy of the original Gol Maal somehow, am sure they will appreciate and admire the true essence of cinema. Surely, they will be amazed at how beautifully a simple plot could be weaved into a full-fledged movie. Gol Maal, even without the crores it did not make, will stay as effervescent and fresh like it did decades back. The film will be as delectable as the delicacies that Bhawani Shankar listed out to Laxman Prasad, "Kalkatte ka Rajbhog khilaunga, Agre ka petha, Mathura ka Peda aur Banaras ka Kalakand". Time has not played truant for these delicacies and neither will it for the movie.
Whereas, no one will remember Bol Bachchan even a few month later, relegated to the growing pile of 100-crore shitty movies. At most, it will be remembered solely as an instance of how power and pelf spoils everything. A vivid lesson on how not to really make a movie. As far as the Bachchan (Sr) connect goes, Methinks, I much preferred his cameo in the original one, the song, "Ek Din Dekha ek Saapna", much more than the flashy item number he has done for the sake of his son. For a man, who has been associated with the original and the rip-off, I wonder if he ever sighs, at how things have turned. Possibly not, with all the crores flowing in, its better being a Bol Bachchan than any other Bachchan…