Till about a fortnight back, BJP as a party was in complete disarray. Beset by bickering and squabbles involving almost all its leaders, from Joshi to Modi to Gadkari to Advani, the party seemed like a Titanic destined to sink in the choppy 2014 waters. With so much politics in-house, BJP was all on a course to lose whatever little moral high-ground that it had come to occupy in the past 8-odd years of UPA rule. The prognosis was dour; namely, the lotus was wilting, and wilting much fast.
But just about when the whole of nation was getting sick and tired of the Joshi posters and the Modi jibes; something much bigger happened that took the whole focus away. Quite like Lord Krishna who supplied unending yards of chiffon sari to save Draupadi's honour, destiny intervened for BJP with the announcement of the Presidential Elections. To be fair, a president in India is merely a titular head, and barring a few exceptions most individuals have been p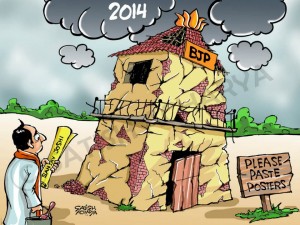 eople without a head (so as to say). Essentially, a president's job in our socialist-secular-democratic-republic is to serenade on the Rajpath surrounded by a bevy of brawny surd bodyguards dressed in red and riding horses on the 26th of Jan, and secondly live in a very ostentatious palace and play host to foreign dignitaries. In fact, a year or so back, there was a contest that had been announced for the 'world's best job', namely, that of a caretaker of a scenic coral island. Somehow, I think, being president of India is somewhat similar to that, an eternal holiday for 5 years, except that you have to sign a few bills forwarded by the cabinet now and then.
Coming back to the current presidential frenzy. Right from the start, the presidential race was set to be much exciting from the word go. Thanks to her numerous foreign jaunts and her lack-lustre performance otherwise, Pratibha Patil had ensured that she and her brood would be vacating the palace on Raisina Hills, with no even an atom of a chance of re-election. This time round, UPA, led by Congress also did not have all the numbers to enforce its choice and were largely dependent on like-minded (rhymes with money-minded) parties to help them build a consensus. On the other hand, while UPA was weak, NDA led by BJP was even weaker when it came to its votive power, and had little or no choice but to merely nod in agreement, under the sham of consensus.
There was little doubt that much like last time, Congress would yet again be able to install its man at Rastrapati Bhavan, who will oversee the important 2014 elections. Basically, it was Sonia Gandhi's game to lose. And much surprisingly she did!
The first & the biggest faux-pas was in the way it dithered to select its nominee for the top post. For quite many days, it was unclear as to who would get Sonia's blessing, even as it was clear that there were no other "respectable" option other than Pranabda. Yet, Sonia dithered for days, simply because she was not comfortable with losing her trouble-shooter babumoshai. On the sly, names were circulated, Dr. Karan Singh, Hamid Ansari, etc. But not one cut ice with all the allies. And then, Soniaji committed the second mistake, she discussed the matters with Didi, who promptly spilled out the beans in the open. So, instead of Congress party declaring its nominee, the world came to know about it from Mamta Banerjee. Suddenly, the party that had been lazily trying to build a consensus (essentially, ensure the votes), had to scramble back and hastily announce its nominee, without being able to seal the little-deals with all the rest (like no CBI behind you, no Rane as CM, your daughter's bail not opposed, etc.). Thus, Pranab Mukerjee was the presidential nominee, in a hurry. And so, an election that was destined to be mundane and morose, was suddenly as exciting like an IPL match, full of twists & turns. BJP that till now was on the sidelines like the 13th man suddenly got a chance to play ball. And that it did, quite well. Here's why they got it right:
Rooting for the Right Man
While, it was Mamta Didi that took on the APJK offensive, everyone knows well enough that it is the BJP wallas who actually support the veena-playing-saraswati-worshipping-secular-muslim. But beyond the obvious, APJK is also much loved and respected by the Indian masses. In him, people see the same sobriety and sensibility that you so expect from our leaders. Thus by rooting for APJK (even though he did not acquiesce), BJP was able to connect to the people who still desire to see a man like him at the Rastrapati Bhavan.  The moral high-ground was occupied even before the first bullet was fired.
Consolidation of the Hindutva brigade
Ever since, it's shining (India) loss, BJP has been confused about the ideological line it needs to take. Even though, it had ascended on wings of Hindutva, it was vary to seem its proponent. Result, through the past 8-9 years it has been dithering from one end to another, so, you have a hardliner Modi, with Varun Gandhi and lot, and then you have the liberal Jaitely and Swaraj lot. The grand patriarch, Advani, who was the architect of the Rath yatra, has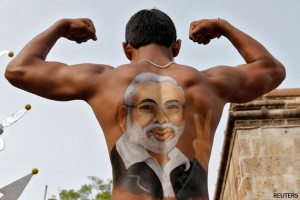 been behaving like a frustrated virgin bachelor eager to get laid. Thus he visited Jinnah's grave and praised him, occasionally writes a blog lambasting this and that, tries to keep away from Modi and cosy up with Nitish. Advani epitomises this consummate confusion within the BJP. Result; it has constantly vacated political ground that it occupied earlier. The UP elections is the biggest illustration of this lot. The state had brought them to the fore, and now they are a distant 3rd, simply because they have been trying to please all.
So, even as Modi and hindutva guys have steadily consolidated their space in the party, there have been lot of begrudging around. But, then nothing unites one like adversity. When the presidential race began, NDA partner JD(U) in general and Bihar CM Nitish Kumar in particular, suddenly broke flanks and mounted an attack on "not-so-secular" Modi. This uncharacteristic vitriolic only helped Modi, because the party then was coerced to stand behind firmly. Even RSS that had so far not been much benign to the Hindutva poster boy, rushed to his defence.
Thus, the party that had so far been confused about its ideological grounds, was pushed to the corners and forced to choose. Going from hereon and largely dependent on how the Gujaratis vote in December this year, the Hindutva brigade is going to consolidate its position. There is a quite a possibility that the BJP party that will fight the 2014 general elections will be quite unlike the one that fought the 2004 and 2009 elections. And they have Nitish to thank for that.
Wrenching the opposition space
By taking on the ruling UPA, even by supporting a sure-shot loser like Purno Sangma, BJP has now retaken the opposition space. While it was Didi, who first picked up the cudgel against Pranab and Congress, but it has been the BJP that has taken on the fight. Slowly and steadily (and rather not very surprisingly either), the rest of the parties, even when they are bitter enemies of Congress and each other, have come on board to support Pranab, like for instance, BSP, SP, YSR Congress, JD, Left, JD(U), SS, etc. It has been the BJP that has been holding out for so long.
After the initial burst and the back-stabbing, Didi sulked and lost the plot. BJP on the other hand only gained the space. By not bowing out and carrying out a notional war, it is back the main opposition to one of the most corrupt government in Indian history.
New alignments on the anvil
By the way things played, UPA has been rendered weaker, as now the TMC will be much disinclined to continue on (or make life harder if they do). Much as some analyst suggest, Congress cannot really cosy up with SP and Mulayam, because that will mean handing them UP on a platter, and become completely dependent on them. Unlike NCP, a SP & Congress alliance is not of equals but lopsided in Bhaiyyaji's favor. And certainly the Yuvraj who spent so many days touring the state and eating in Dalit homes, would in no ways, let them take the state so easily.
On the other hand, JD(U), if at all it leaves NDA fold, will become another state-level player like Naveen Patnaik's BJD. The alliance between JD(U) and BJP was the one that won the elections, it was a partnership of equals. A split is going to hurt both, and bring marginalised players like Laloo and Paswan back to the fore. Thus, it will be the "clean man" Nitish that will be hurt more from deciding to break-free and align with the Congress.
The other 'staunch-ally' of BJP that too has broken grounds is Shiv Sena. Like last time, SS has yet again played the spoiler and decided to support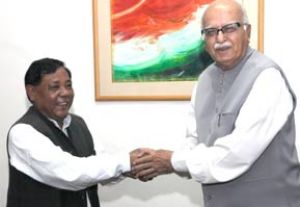 Pranab. Last time round though things were a wee different, at least they could take the principal stance of supporting a "Maharashtrian". This time, the Thackerays have no such reason to peddle. Also, thanks to their falling vote-share (and some deft political manufacturing by the arch-nemesis MNS), SS have become more of a burden for BJP. Not surprisingly, Raj Thackeray quickly lambasted the SS for aligning with Congress. Could this be a pre-cursor to things to be, a new saffron, BJP & MNS?
In the meantime, thanks to the presidential discussions, BJP has opened up lines of communications with Jayalalitha and even Naveen Patnaik, who are sitting on the fence waiting for the right vehicle to come along, secular or not. The party's performance in AP polls, will also be encouraging. Its pro-Telangana stance has helped its vote share, even as Jagan's YSR won most of the seats.
Purno Sangma, while, he may be a shadow of his former self, is still a power to reckon with in North East. With him resigning from NCP, and being supported by BJP, he will have little options but to join hands with the party, after he loses the elections. This will yet again help BJP spread its feet in the North-East. Whereas, Pranab Mukerjee, by individually calling out to parties and individuals (like the TMC rebel MP) has shown his desperation for the top job and lost some of the sheen.
Thus, in reality, even as Congress is successful in installing its most-trusted lieutant at the Rashtrapati Bhavan, it is the BJP that has come on the tops. Now, if only it plays its cards properly from hereon, 2014 could be a year of reckoning for it. Destiny has dealt them a good hand, it's now their battle to lose.
— Toons courtesy Satish Achaarya (http://www.facebook.com/cartoonistsatish)