"Hello. That is Shashwat Chaturvedi, right?" a sombre relaxed voice on the other end of the telephone quipped. It was 9 in the morning, and after an arduous late-night at work that stretched on till morning, I would have cared less if it was Lord Shiva on the other side. Groggily, I mumbled an affirmative. "Good. I was just updating my telephone diary. You are a journalist, right," came another question. This time, I replied in the affirmative and also asked for the antecedents of the caller. "Good. This is Anant Pai." Even though half asleep, I was jolted, wondering to myself whether it was actually a call or my mind was wandering in some hazy dreamland. The silence at my end prompted the soft voice, "Anant Pai, here. Uncle Pai as you might know." The next few minutes, I was gushing over the phone, speaking dreamily to Uncle Pai. The rest of the day, I just floated around on a cushion of air; after all it is not every day that you get a call from Uncle Pai.
Like that day, when I was shocked and stirred up by his call, an innocuous post on FB stating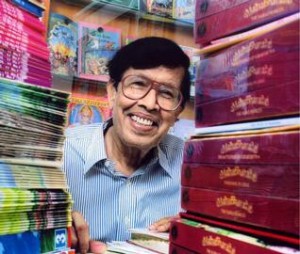 "RIP Uncle Pai" again shook me up but this time it was shattering. Like millions of other Indian kids, I too had grown up on a staple diet of Amar Chitra Kathas and Tinkles, and for us Uncle Pai, the creator of these magazines, was more like Santa Claus, except that he didn't look one and secondly, he told stories and not ordinary stories but those that connected us to our forefathers that walked this very land, 50, 100, 200 and 1000s of years back in history. Most of us, still treasure those original ACKs in the hope of sharing it with the next generation. Thus in a way, ACK had become a family heirloom, passed one generation to the next.
Fortunately, I had the good luck of meeting and interacting with Uncle Pai a couple of times and in each of these meetings, I'd sit in front of him as if confronting some big sage. I would sip from the ever flowing fountain of knowledge; just keep hearing him out, asking him a thing or two and then just paying attention to what he said. When, I was young, I had heard that some rare people were blessed by goddess Saraswati. For me, he was the living embodiment of that goddess. He knew everything under the sun and more importantly, he knew to tell it in a way it stayed with you. For instance, on hearing my name, he told me the real meaning of the term Shashwat, and to drive the point home, he also recited some shlokas to the effect. Or when I spoke about the one Sanskrit shloka that always stayed in my mind, namely the title track of Bharat Ek Khoj, Uncle Pai immediately recited the Nasadiya Sukta (it was from him that I came to know the name) from the Rig Veda, translated it for me and then told me that it was he who had suggested the same to Shyam Benegal (the director of Bharat Ek Khoj) as title track for the serial. Then once the shlokas were done, he would easily sing a Bengali tune, recite Kabir or quote Shakespeare.
There was nothing under the sun that Uncle Pai did not know about; he was a veritable encyclopedia on everything. But the best thing about him, was the manner he could storise everything, turn it into a tale, making it ever so palatable for the young mind. He was a story-teller by par, and he had his mantra. To be a good children's writer, he used to say, one must know child psychology or what the child loves. One must look from the child's point of view. Uncle Pai had a simple thumb rule for them, when "children are in a hurry to go to a playground after school, at that time stop them and read your story. If your story holds enough interest for the child and if he doesn't run away to the playground- you have succeeded in becoming a good writer."
Yet, the one thing that he really liked to discuss was Amar Chitra Katha and its evolution. He would brim with pride, and show clippings from different anthologies, etc. on how ACK had changed India. He even shared with me a small printout of a story done by Readers Digest on him, which had carried a caricature of Uncle Pai, made by RK Laxman. On ACK, Uncle Pai had so many stories, that they could easily fit all those issues that he printed. Right from his struggles in the start to how he persisted and then finally succeeded in his endeavors.
But to understand the real worth of Uncle Pai one needs to assess the times in which lived and did his work. The early 60's were a beautifully different era, long before the revolution of worldwideweb, the mobile or even the satellite channel, information flow was usually one-way, broadcasted, on the papers, radio and sometimes on the TV. People little say in what they got,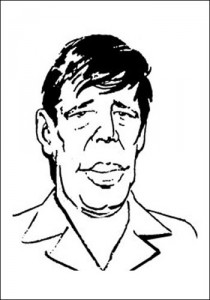 and were much dependent on the mercy of the editors to decide for them. In such interesting times, a fresh graduate in chemistry decided to follow his instinct and joined Times of India (ToI) after having failed to run a children's magazine named Manav.
In those days, ToI had imported a special color printing machine which was used to publish calendars, etc. Since, it was idle for most of the year, Uncle Pai convinced the management to start printing comics on them, thereby increasing their productivity. The management agreed and so Indrajal Comics were born. Over the next few years Uncle Pai brought Phantom and his pygmy Bandar tribe, Mandrake and Xanadu, to Indian kids. But even when kids were having fun, Uncle Pai never forgot to give a dose of knowledge and awareness neatly sweetened in a comic strip. So, in the last few pages, there would be a bespectacled chimp named Kunju Pillay, cycling to different parts of the globe and sharing his insights. From these few pages, kids like me, learnt about Eiffel Tower, Egyptian Pyramids, Leaning Tower of Pisa, and other wonderful things.
The turning point came when Uncle Pai was visiting Delhi and somewhere near Dariyaganj, he happened to see a quiz program being telecasted. He was astounded to see that school children were unable to recall the name of Lord Rama's mother, while they could easily talk about Greek mythology and the gods of Olympus. It was then and there, that Uncle Pai decided that taking Indian culture to children would be his life's calling and so Amar Chitra Katha or ACK was born. The first title of ACK was Krishna, numbered 11 instead of 1, as 11 is considered auspicious in India.  The first issue came out in 1970 but received only a lukewarm response. It took another four years for the project to take off, but once it did there was no stopping Uncle Pai from becoming a household name. He travelled often and extensively, meeting with his young readers and persuading their teachers to use comic books as an educational tool. He even organised nation-wide contests for children. Success finally did come, as ACK with its 400 titles sold about 100 million copies, ranging in much diversity from Jataka Tales to Mahabharata series, to Rana Pratap and Shivaji to Sai Baba and Babasaheb Ambedkar.
The reason why ACK's ascent was slow and tardy was because the way Uncle Pai lead the business, namely, he never considered it as business. Over a few decades, Uncle Pai struggled to set up a business, simply because of his ethical and moral persistence. Since, profiting was not an objective, Uncle Pai never really did think of milking his creation, any entrepreneur would. His sole focus was always on what next topic will be published and how do we reach more children. Little else bothered him, so he never really got a professional team to run the show. Thus, ACK was a unique publishing company that was founded and run by a brilliant scholar, who didn't even have a stake in it. And this was much an undoing for him.
So, when in 2007, a couple of Mckinsey consultants freshly returned from US lead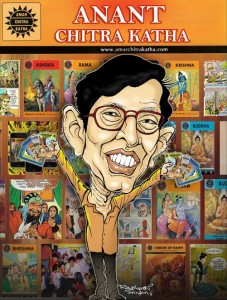 by Sameer Patil, decided to pick up ACK and run it professionally, there was little that Uncle Pai could do about it. Ever since, he had partnered with GL Mirchandani in setting up the company in 1967, the control had always remained with the Mirchandanis. Almost overnight, control for the India's premier children publishing company run a veteran was handed over to a few MBAs, for whom ACK was a business investment and not a cultural setup. Thus, the prices were raised, distribution strengthened, website revamped, etc. They also went to the extent of stop printing any new issue, only reprinting the ones that were popular.
Even Uncle Pai's pet Tinkle was not spared from the wand of Mammon. It was completely revamped to make it more "appealing" to kids, new features and characters were added. Tinkle used to be a storehouse of local fables and folklores, all those were dropped out. Suddenly kids were being wooed with gold coins and free online games. The magazine was turned into a marketing tool, which could carry adverts from companies peddling goods for children. And Uncle Pai was just a mute spectator to how the changes were wrought. His disenchantment was obvious, as he stepped down from his position of editor of Tinkle and was replaced by his long-time deputy Luis Fernandes. One day, when I complained to Uncle Pai about all these changes, he just smiled at me indulgently and then called in Luis and asked me to repeat my feedback in front of him. It was much obvious that he wasn't happy at how things had shaped up. He started keeping away from things and confined himself with few tasks at hand, like bringing out a special edition of Geet Govindam.
It is a strange coincidence, but as the workaholic man, who usually put in some 18 hours of work, went slow in the work, his health also started deteriorating. For a man who could barely stay away from his office in Worli, he would not be able to attend it for days. It was as if, the work was an elixir to him, deprived of it, he was a mere mortal, old and infirm. For a man who clocked some 18 hours a day at work, and who did little else, the transition to a new age seemed to tough. Finally, after a fall from stairs, in which he fractured his hips and was recuperating at a hospital, he had a massive heart attack and passed away on Feb 24th, leaving behind a big void.
The big question in everyone's mind is what happens to Uncle Pai's legacy, will the children in the days to come, know about their cultural heritage like my generation was, thanks to ACK. There is no one clear answer to it, but as of now, ACK Media seems unfit to shoulder that mantle. Take for instance, the April Issue of Tinkle. For the first time ever in its history, there was a false-cover and corresponding illustrated story on how Bournvita is good for the kids. Already, there are adverts by McDonalds and other such firms. The trouble is, in their rush to monetise, the real essence of the magazine is fast disappearing. I don't expect to see features like Faster Fene or Superdog Ranjha or even the one that had bespectacled professor explaining different things in the magazine anymore. Meanwhile, ACK will keep reprinting the old issues in fancy covers and fancy prices, limiting its reach to kids from rich families. For the rest, the good thing is ACK and Tinkle is still readily available in second-hand circuit, with raddiwallas from Churchgate to Mira Rd, selling them for some 20 odd bucks.
Nonetheless, f
or millions of kids like me who grew up in the 70s-90s time frame, Uncle Pai will always live on in our collections. I remember telling him that for me history or historical figures were ACK, like I knew Einstein was a slow learner, or how Shivaji and the Malwas took oath to liberate the land from ACK. Uncle Pai used to chide me that even though, my second name was "Chaturvedi" (the one who knows all the 4 vedas), I didn't know any. And I used to retort, well I knew much thanks about the Vedas and our history thanks to you. And then Uncle Pai would smile at me indulgently.
The one good thing I did was to tape one of our conversations, and today those 80 minutes odd interaction is my most prized asset. I return to it, whenever I am downcast or miss him much. Fondly remembering those days when I used to be sitting in front of him and listening to all that he had to say. The sad part is that I know now, that there won't ever be a call in the morning from him, or never again a chance to meet him, but then, I was fortunate to be one of those who were touched by Uncle Pai and got to know him a bit more. For me, that feeling itself satiates me. I am happy that I lived in the times of Uncle Pai and happier that I got to speak, talk and touch Uncle Pai.