One of my biggest regrets in life is that I am ill equipped to be a food reviewer or a connoisseur. Over the years I have been an mute outsider to discussions of whether Karims in Jama Masjid, Delhi, is the best place for kebabs or is it Bade Miyaan in Mumbai, or whether the pork chops in Goa are sumptuous or is it the momos in North East.
At most I could look on with wonder at how passionate people become when comes to discussing cuisines, I would smirk and nod my head in disbelief. It was just that I never felt like arguing or debating so valiantly over a paneer kadhai or even an aloo paratha.
The reason is quite elementary, my dear Watsons, I happen to be a vegetarian. And not the 'vegetarian type' of vegetarian that abound these days. To my own misfortune, I was born in a family that always looked at a rabbit as cute, while others looked at the supple meat (like in the case of a waterhole in Bangalore, where I saw a rabbit merrily hopping around, oblivious of the fact that the menu card there promoted rabbit fry).
As a kid I loved chickens and was mortified to know that people make soups out of them and horrors of horrors even drank it! As those cute-furry chicks came out of that oval egg, I could never even bring myself to even eating it and because of it I had to forsake almost all pastries, cakes, chocolates (I used to love Mars till I came to know) and what not. I was happily living this life of deprivation, and then I was married.
My better-half had quite other ideas about how to deal with chicken, goat, fish and other forms of animal life. She preferred to devour them. I'm now used to watching the relish on her face, when she dug into a Goan Prawn Curry, or bit a piece of tandoori chicken. It was then that I came to know from close quarters how mutton tastes (like soyabeen) or how it does not. I also came to know that while it might not be harder for a veggie to turn non-veggie, the versa is hard to make.
Somehow, I became empathetic to the cause of non-vegetarians, if not exactly supportive (I am still getting missus to give up…but then that's another story).
On being asked to review my favorite food joint, I started making a mental note of all the places that I liked. I loved the Pasta Del Fattore (Penne) at Little Italy or the Gujarati thaali at Rajdhaani. I loved the ambiance of Khyber or the music at Café Mondegaar.
But then, the place I am going to talk about is neither renowned for its cuisine and certainly not for its ambiance. What it does serve with panache is amazing taste and loads of history. Ideal Restaurant is located on SV Road, right in front of Andheri Station, on the western side.
In the hustle and bustle of Andheri, Ideal stand out for its old and nearly degraded interiors. On entering the place one is almost astounded at the spaciousness (in Mumbai every sq. feet is worth its dimension in gold) and amazing smell of baking and cooking.
Ideal is an Irani café, an ageing relic of the happy days gone by. Some decades back, there were scores and scores of Irani cafes spread across the length and breadth of Mumbai. Operated by Zoroastrians, they were renowned for the delicacies like kheema and berry pilao. These Iranis were relatively much recent migrants from Persia (modern day Iran), in comparison to the Parsis, who had migrated and settled down in India much earlier. Hence, these Irani cafés still retained a bit middle-eastern charm, evident in the personal way the food was served and patron indulged.
But increasing commercialization has more or less done away with these Irani cafés, only a handful are left fighting for survival.
Coming back to Ideal, like any other Irani café, the rate is cheaper than most of the modern-day joints. You could fill your tummy, for some Rs 20-30. The interiors are unostentatious, plastic chairs and sun-mica tables. The waiter only plonks a glass of water on the table if he sees you are consuming something. One has to go over to the long platform overlooking the kitchen and place the order. There used to be seating arrangement on the loft as well, but now that has been closed.
The most famous dish at Ideal is the pudding, it sells like….well…like pudding itself. The person barely has time to bring a large tray of pudding, slice it into pieces, and it is over by then. It literally flies off the counter. And I can, based on my sources, tell you that it does taste quite good, not too sweet and a wee-bit rubbery (like the Indian sweet rabri to be precise). People swear by the kheema pao and kheema samosa. Costing some Rs 25, Kheema pao, with an extra pao or two is sufficient for a lunch. Then there is the biryani, mainly mutton that comes accompanied with some curry.
But go to Ideal Restaurant, simply to have the Irani chai or tea. It is quite different from any sort of tea you might have in any other Indian restaurant. The essence of Irani tea is that, the liquid containing tea leaves and milk is continuously boiled for a long time separately and then they are mixed in a certain proportion, often it is called as paani kum (or less of water). My personal favorite is double-paani kum, (twice as less water), the tea is very milky and has a very different taste that can barely be described.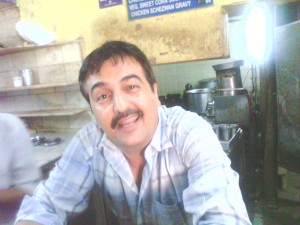 The best accompaniment with the Irani chai is the bun muska, or a circular piece of white bread that is cut into half and laden with dollops of butter. Bun muska and chai make a lethal combination, like none you ever had. You could also have Brun muska, which is similar to bun, except that the bun is crusty instead of smooth and hence called a brun. The two would cost you by just around Rs 25.
You can also get veg as well as mutton patties. The veg ones not that great, but I have heard people talk of the mutton patties and their words become a wee bit incoherent due to the build up of saliva in their mouths!
Ideal is also a bakery so you can also get colorful scones and an array of sweet and salted biscuits like rawa (semolina) coconut, til rawa coconut. The best one of the lot is the traditional nan-khatai (sweet, crisp and flaky Irani biscuits), madeira-cake (tutti-fruity biscuits), etc. You can also order for shrewsburry biscuit, but they are not as good as the ones available at Kayani in Pune.
Ideal Restaurant has been able to hold off the commercial sharks for as long (much unlike the other Irani Cafes that have perished), but no one is sure how much longer it can hold out. Before opening its eatery right opposite to Ideal, McDonalds was very keen to take over the space occupied by the Irani café. It is rumored that McDonalds was ready to dole out some really crazy some of money, yet the Iranis did not budge.
As the prices are pretty low, you can see every class of people eating out at Ideal, right from a CEO, who loves the taste, to a peon, who can afford the fare. It is an amazing confluence of all types of people that you can find in Mumbai.
All in all, go to Ideal Restaurant for the old-world charm, to feel and taste how the 70s and 80s tasted like. Go there and rest on the plastic chair, while your senses soak in the rustic environment. Go there just for the experience and be a part of history. The delicacies, well they are a bonus. If only things remained…ideal.