Day before yesterday (May 16th. 16:47 hrs), I was visited by the lady Stork carrying a small bundle of joy, hope and excitement; a bundle that has been named Tutul (pet name, nick name, home name). The visit was not really a surprise for me and wifey, as we had prepared our self for it in the past 9 odd months. And yet when it finally happened, we realised that no amount of preparation or expectation can be enough for child birth.  When, the "ohhhh..waahhh, ooohh…wahhh" moment arrives, you are just as raw, nervous and excited as if this is not happening to you. "Is that delicate, frail, whimpering new-born ours and HOWW!!" is probably the only thought that crosses the mind. In fact, I was quite numbed when I heard the cries and there are still som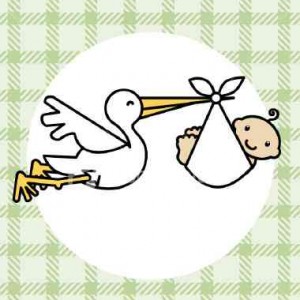 e vestiges of that numbness. But it is wearing off quite steadily, especially when Tutul simply refuses to do as I wish and seem to merely wish as he does.
Tutul, which means soft and supple in Bengali, is an extension of the "UL" series of nick-names in my family, the four of us siblings are named Gugul, Parul, Putul, and Shishul by our parents and now the tradition extends further with Tutul. And yet, while Tutul might be a tiny addition to the vast sea of humanity, for us (me & wifey), he is already one of the biggest event (if not the biggest one) in our lives.
The past few days have been very hectic and quite understandably; when I am not admiring the face of the little angel, which many opine is quite similar to my own, I am running errands, escorting visitors, interacting with the doctor & nurses, learning to handle a tiny doll who seems to be prone to high-pitched shrieks and cries that almost shakes the whole place up, getting advices, doling out some, etc.
In all this, my greatest travesty has been that I have been blacked out and unable to share this amazing news with all my friends, colleagues and well-wishers. It so happens that my cell is conked off, and while I was supposed to get it a week back, I still haven't. The result has been pretty disastrous, since all my contacts were in that cell, I have not been able to spread the message far and wide, as I would have ideally liked. Over the past few weeks, I had strung together a couple of short messages that would not only inform all and sundry about the new addition to the Chaturvedi clan, but also seek blessings and good wishes for the kiddo. Alas, I have been denied the right to puff up my chest and preen a wee bit.
As of now, the guys at Prince Telecom are still struggling with my handset and promising me that 'it would be alright shortly". Meanwhile, I am completely in the dark, even when I am getting messages from friends and well wishers; I don't know which one has punched in those words and keep guessing (it would be highly inappropriate to message "Who is this?"). Take for instance, I got this message, "Congratulations bro" and I was flummoxed as to who was really congratulating me as I couldn't fathom from the number. Now, I am especially very very stingy when it comes to making sisters, as god has already blessed me with two great ones, so was all at sea as to which lady felt sisterly to me. That was till, my friend Vijoy Donald decided to visit the hospital, and revealed that he was the 'bro' who smsed a 'bro'. That should give you an idea of how much of a quandary I am in, at the moment.
Nonetheless, I would like to inform the world at large and in small that I have received a promotion in these dire times; have become a dad, a proud one at that. To that end, both me and my wife seek your blessings and good wishes for Tutul (gifts aren't unwelcome either). I hope and pray that (paraphrasing Armstrong's words),"this tiny addition of a man, proves to be a giant asset to mankind."
And finally, there is a small takeaway as well; if perchance you are going to have a baby, don't forget to take a backup of your contacts on a memory card and never ever bank on the mobile guy, who assures you that all will be well in a day or two. It never does.